Dining
Late-night pizza now available on campus through Boost app
By Abel Valencia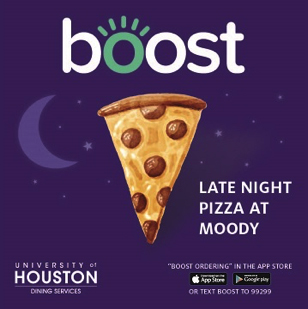 University of Houston students, faculty and staff are now able to order personal-sized pizzas to go from Moody Dining Commons during the late-night hours using the Boost mobile ordering app.
The 12-inch pizzas are fresh and made to order. They are available from 11 p.m. to 3 a.m., seven days a week.
Cheese, buffalo chicken and margherita pizzas can be ordered, or customers can create a customized pizza with an array of different toppings.
Once an order is placed and paid for through the Boost app, dining staff will begin making it. Customers pick up their pizza from the cashier station at the entrance to the dining commons.
The Boost app can also be used during the day to preorder and pay for food in advance at numerous dining locations on campus. The food can then be picked up at the designated Boost counter at each of the participating dining outlets, keeping customers from having to wait in the ordering line.
Most credit and debit cards are accepted as payment through Boost. A Cougar Cash payment option currently is not available, but will be included in future app updates.
The Boost app is free and can be downloaded for both Android and Apple devices.