Student Spotlight
Barae Frizzel
Wellness Walks front desk supervisor
By Richard Zagrzecki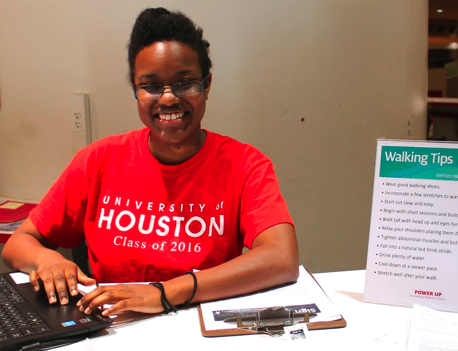 Barae Frizzel has witnessed plenty of University of Houston employees going around in circles over and over again.
That's a good thing, though – they are participating in the Wellness Walks @ Hofheinz, a new joint initiative between Human Resources and Athletics to keep faculty and staff active and healthy during the hot summer months.
Every Monday, Wednesday and Friday, Frizzel heads over to Hofheinz Pavilion and prepares it for the walks, which take place from 11:30 a.m. to 1:30 p.m. on the air-conditioned concourse inside the facility.
As the Wellness Walks front desk supervisor, she makes sure participants sign in and fill out a waiver form, and answers any questions they may have. Then, when they are done walking, she has them sign out and log how many laps they completed.
"If there is another worker with me, then we typically take turns walking ourselves and getting our own exercise in," said Frizzel, who graduated in May with bachelor's degrees in hotel/restaurant management and American Sign Language interpretation. "It's been an awesome job."
The walks are slated to continue through August. Frizzel plans to be working behind the front desk area the whole time. Part of her job duties include logging in statistics, including how many people participate each day, total number of laps logged, and even what times and days are the busiest.
"I also encourage people to continue coming and to walk further than the last time they came in," she said. "It really is a lot of fun."
When she's not overseeing the walks, she's busy honing her sign language skills. Her short-term goal is to become certified as an American Sign Language interpreter, an important component in helping her eventually land a job as an interpreter. Her ideal career path has her working for an event company or agency as their deaf liaison.
Frizzel, a graduate of Royal High School in Brookshire, became interested in sign language in middle school, when her mother learned to sign music for the music ministry at their church. She checked out a few books from the library, but it wasn't until she was attending UH that her interest really took off.
She initially chose UH to pursue her hotel/restaurant management degree. She learned early on in life she liked working in hospitality and service-related jobs, thanks to her tagging along when her grandmother – a florist – would work weddings and other events. Once she saw the Conrad N. Hilton College of Hotel and Restaurant Management, complete with its own on-campus hotel that allows students to get hands-on training, she knew she was in the right place.
After a couple of years, she thought it would be wise to study a foreign language if she was going to enter the hospitality field. She remembered her previous interest in American Sign Language, and after taking a couple of classes, she decided to pursue it.
While a student, she had little spare time on her hands. Besides pursuing two degrees, she also worked at the Hilton University of Houston, and worked her way up to roles as a banquet supervisor and a restaurant supervisor. She also was involved with the American Sign Language Club on campus, serving as its secretary this past spring semester.
"It's been a great experience here at UH, both in my studies and in the various jobs I have worked. I wouldn't trade it for anything," she said.