SUSTAINABILITY
Trees planted in Campus Community Garden for Arbor Day
By Kristina Michel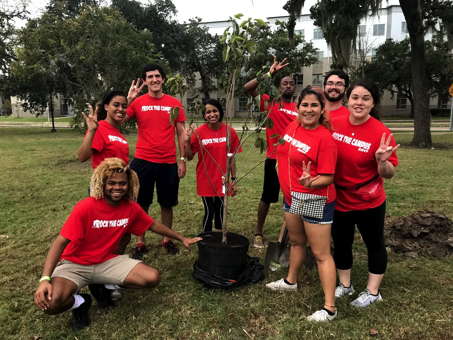 Volunteers and members of the Office of Sustainability planted a persimmon tree and grapefruit tree in the Campus Community Garden in honor of Arbor Day on Nov. 3. The event was part of the annual Rock the Campus volunteer event hosted by the Metropolitan Volunteer Program.
The tree planting and volunteer event was the garden's first major event after Hurricane Harvey. Garden Assistant Alex Rogers said the garden suffered minimal damage from Harvey and has been recovering nicely.
"Luckily, we were in between seasons when the hurricane hit, so we didn't lose much. We did not have any summer crops actively producing and had not yet planted any fall seedlings," said Rogers. "The endless rain did wash away some of the soil from our beds, so we had to buy new soil a bit sooner than we probably would have. The hurricane mainly set us back about two weeks in starting our fall seeds, but we're all caught up now."
Immediately following Harvey, the garden received a spike in volunteer interest, further aiding its quick recovery.
"We've had a ton of volunteer interest in the garden since the hurricane, so we had plenty of help getting it back on track," said Rogers. "Everything is doing great, and our winter plants are already producing."
Twenty volunteers attended the Arbor Day/Rock the Campus volunteer event along with members of the Office of Sustainability. In addition to planting the two fruit trees, the volunteers weeded the garden.
Located next to Cougar Woods Dining Commons, the Campus Community Garden is about 600 square feet of land devoted to growing organic produce and educating the campus and community members about healthy living. The produce is grown using chemical-free, pesticide-free, organic practices. All produce from the garden is donated directly to local food pantries and facilities serving low-income families and individuals.
For more information about the garden, visit the Office of Sustainability website.