STUDENT Spotlight
Emmanuella Aina
Communications student employee in Facilities/Construction Management
By Richard Zagrzecki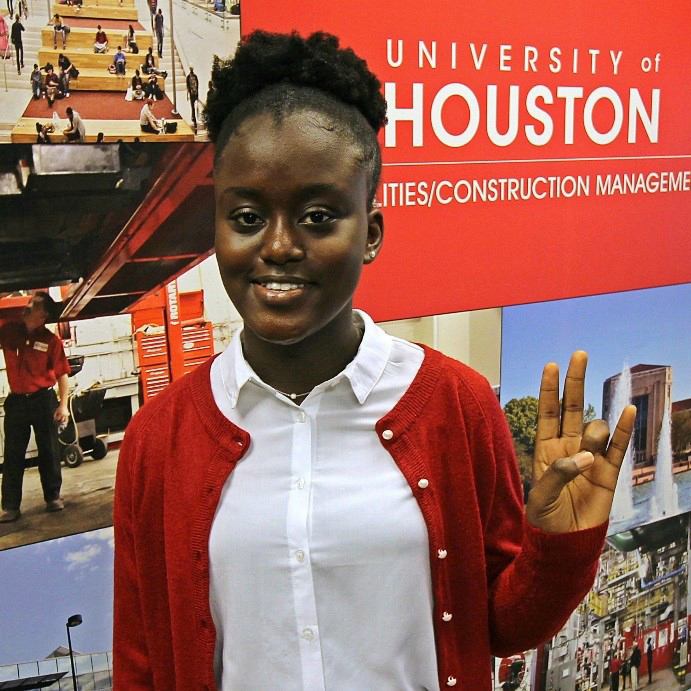 The last thing Emmanuella Aina expected when she attended new student orientation was to run into a familiar face.
As an international student from Ibadan, Nigeria, she was 6,500 miles from home in a country she had never been to before. Yet, right there across the room was another student she knew she had seen before.
"I told my mom, 'I know that guy from back home,'" said Aina, who is pursuing a bachelor's degree in media studies/media policy. "So I talked to him and he was like, 'Yeah, I know you, too.'"
As they talked, they discovered they attended different high schools in Ibadan, but would pass by each other on the street as they walked to school.
"It was so random running into him. I just thought, 'Wow, what a small world it is,'" she said.
That was in 2015. Now, more than two years later, Aina has made many new friends and adjusted well to life at UH. Since February, she has been a communications student employee with Facilities/Construction Management. She and a team of other students handle a variety of communication-related tasks for the department. That includes writing and creating graphics for the website and newsletters.
She also helps manage and update the website, which is her favorite part of the job. She also helps communicate information about various facilities-related services to new students during orientation, such as the smart bins for garbage and recycling, the UH2O water fountains, and the FIXIT work order request system.
"I really like this job because it has exposed me to many different things and allowed me to learn new skills and programs, such as InDesign and Photoshop," she said. "I have learned a lot working here."
In her spare time, she likes to do two things: sing and volunteer.
She is a member of the Good News Gospel Choir, an organization here on campus that sings at area churches and other groups and functions. They also take part in competitions against choirs from other colleges and universities.
When she gets the chance, she volunteers for various groups and organizations, whether it be at the Houston Food Bank or Frontier Fiesta, or through the Metropolitan Volunteer Program, a student organization here on campus.
"I just like to volunteer and help others," she said.
After graduation, she plans on going to grad school and earning a degree in international relations. Then, she would like to use her education to travel the world and help people where she can, sharing her knowledge along the way. How that will take shape is still to be determined, but it could be anything from teaching in another country to working as a freelance journalist.
In the meantime, she is enjoying every minute at UH, which she loves especially because of the diverse student population, which represents many countries from around the globe.
"I wanted to be exposed to different cultures from around the world, and here I am able to do that," she said. "That exposure molds you into a more culturally minded person. I am grateful for that."