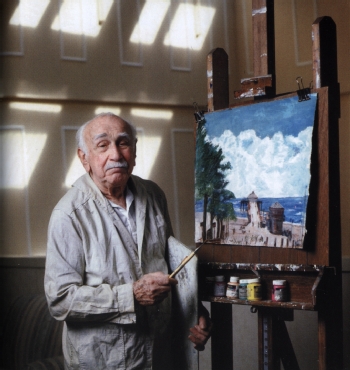 Irvin M. Borish, O.D., DOS, former University of Houston College of Optometry Benedict Professor, died after a brief illness Saturday, March 3 at age 99. Borish's life spanned much of the history of American optometry. He was considered the "Father of Clinical Optometry," according to the American Optometric Association, and was called the most influential optometrist of the 20th century by Review of Optometry magazine. He served as a practitioner, teacher and researcher throughout his illustrious career.
"Every optometrist in practice today has positively benefitted from the work of Irv Borish," said Earl L. Smith, dean of the University of Houston College of Optometry.
Borish was born Jan. 22, 1913, in Philadelphia and studied English literature at Temple University beginning in 1930. He enrolled in the Northern Illinois College of Optometry in Chicago in 1932 and graduated in 1934. That same year, Borish joined the college's faculty and was appointed chief of staff of the eye clinic. By 1942, Borish had become assistant dean.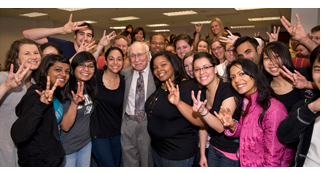 In 1944 Borish moved to Indiana and went into private practice. He published the first of numerous editions of "Borish's Clinical Refraction"
in 1948
–
still co
nsidered a standard textbook for optometry students. Borish lobbied for the establishment of an optometry school at Indiana University (IU). It was established in 1953, and in addition to traveling weekly to lecture at IU, Borish wrote hundreds of articles, served as a visiting professor to numerous optometry schools, and patented five types of contact lenses. A heart attack forced him to close his private practice in 1973.
Borish became a full-time professor at IU from 1973 until 1982, at which time he assumed the Benedict Professorship of Optometric Practice at the U
niversity of Houston College of Optometry (UHCO) – the first endowed chair in an optometric institution. The college established the Irvin M. Borish Chair in Optometric Practice in 1987, an endowed chair with more than $1 million of support. Borish also has a reading room named in his honor in the college, where several water colors he painted are on display.
"Irv Borish was a true renaissance man. He was an accomplished practitioner, a scholar and teacher, an inventor, a writer and a painter," said Smith. "He was passionate about the profession of optometry, and throughout his career he used his significant powers of persuasion to move optometry and eye care forward."
In 1994, the IU School of Optometry established the Borish Center for Ophthalmic Research. He became the first optometrist inducted into the National Optometry Hall of Fame in 1999.
Borish continued to lecture, receiving invitations until his passing. He visited the UHCO in April 2010 and was voted by students to give the UHCO commencement address in May 2010, where he shared an interesting history of the profession. The University of Houston community extends its condolences to the family of Borish, including Borish's grandson Gregg Roman, associate professor of biology and biochemistry in the UH College of Natural Sciences and Mathematics.
A memorial service to celebrate the life of Borish will be at 2 p.m., Sunday, March 11 at Edgewater Pointes Estates, 23371 Blue Water Circle, Boca Raton, Fla. 33433.
In lieu of flowers, per the request of Borish and his family, memorial contributions may be made to:
American Optometric Foundation, 6110 Executive Blvd., Suite 506, Rockville, Md.  20852, or
Borish Center for Ophthalmic Research, Indiana University Foundation, P.O. Box 500, Bloomington, Ind.  47402, or
Irvin M. Borish Chair in Optometry, University of Houston, College of Optometry, 505 J. Davis Armistead Building, Houston, Texas 77204
About the UH College of Optometry
Since 1952, the University of Houston College of Optometry (UHCO) has educated and trained optometrists to provide the highest quality vision care. One of only 20 optometry schools in the country, UHCO offers a variety of degree programs, including Doctor of Optometry (O.D.), a combined Doctor of Optometry/Doctor of Philosophy (O.D./Ph.D.), Master of Science (M.S.) and Doctor of Philosophy (Ph.D.). UHCO serves an average of 36,000 patients a year through The University Eye Institute and its satellite clinics.
About the University of Houston
The University of Houston is a Carnegie-designated Tier One public research university recognized by The Princeton Review as one of the nation's best colleges for undergraduate education. UH serves the globally competitive Houston and Gulf Coast Region by providing world-class faculty, experiential learning and strategic industry partnerships. Located in the nation's fourth-largest city, UH serves more than 39,500 students in the most ethnically and culturally diverse region in the country.
---