"I kick the ball
high to the sky.
Kick it with the other foot
even higher." 
The words from the latest book and project from the University of Houston's Arte Público Press (APP) are intended to combat childhood obesity and its related illnesses. "I Kick the Ball / Pateo el balón"  by Gwendolyn Zepeda is the debut publication of APP's wellness program, ¡Salud, familia!, and 5,000 copies will be distributed, free of charge, at the Children At Risk 4th Annual Nuestra Familia, Nuestra Salud Latino Children's Health Fair.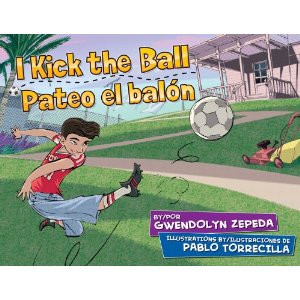 The event is planned for noon, Sunday, Feb. 13, at the PlazAmericas in southwest Houston.  The event is free and open to the public.   
 "With news about the extent to which obesity was permeating Latino communities, in particular children, we knew we were going to respond by doing what we do best-publish books," said Professor Nicolás Kanellos, director of APP.  "These books address the need for exercise, the need to take control of public spaces, parks and playgrounds; to promote good healthy eating; and get the messages not only to the kids, but also to the parents."  
¡Salud, familia! is a multi-pronged project that also includes a public-service web and Spanish-language television campaign as well as a public policy aspect in the form of published essays on Latino health.  Research will be compiled into a book written by leading health experts to be released later this year. 
More than 200,000 copies of "I Kick the Ball / Pateo el balón" already have been distributed to community organizations across the country in rural and urban areas.  The program will publish and distribute four other books this year.   
The weekend health fair will feature immunizations and various health screenings along with registration assistance for CHIP and Medicaid.   
Arte Público Press is the largest publisher of contemporary and recovered literature by Hispanic authors.   
For more information on Arte Público Press visit http://www.latinoteca.com/arte-publico-press
To listen to the UH Moment visit http://app1.kuhf.org/houston_public_radio-news-display.php?articles_id=1295557988
 WHAT: Arte Público Press' ¡Salud, familia! Book Donation 
WHEN: Noon - 4 p.m., Sunday, Feb. 13 
WHERE:  PlazAmericas in southwest Houston, 7500 Bellaire Blvd.   
---