Elizabeth D. Rockwell's commitment to higher education provided a vital spark in the University of Houston's drive to Tier One.
At 3:30 p.m. on Feb. 10, the university will pay tribute to the recently departed Rockwell (May 19, 1921 - Jan. 28, 2011) during a Celebration of Life in UH's Elizabeth D. Rockwell Pavilion (second floor of the M.D. Anderson Library). Members of Rockwell's family will be in attendance, and UH President Renu Khator will be among the speakers sharing memories of one of the university's most passionate supporters.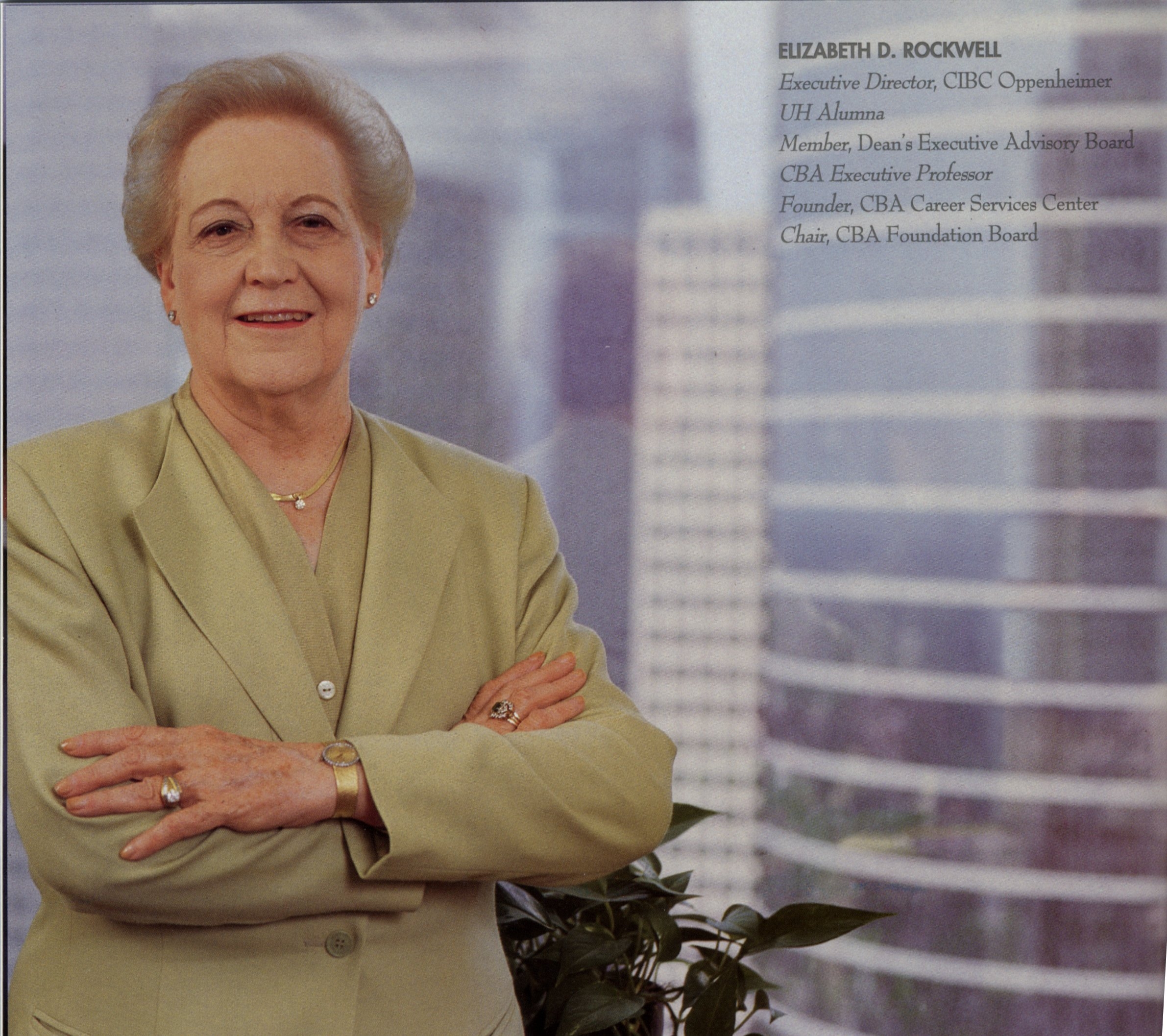 "Elizabeth Rockwell has been a great friend and supporter of the University of Houston. A fourth-generation Houstonian, her generosity has had a major impact on many UH areas including business, law, science, math, alumni and the libraries," Khator said. "The university honored Elizabeth Rockwell with the 1992 CBA Alumni Award and the 1996 University of Houston Alumni Association Distinguished Alumna Award. We would not be in a position to celebrate our recent Tier One achievement without the contributions of wonderful people like Ms. Rockwell. We will greatly miss her."
Many aspects of the campus' landscape were made possible through Rockwell's support. Among the campus facilities bearing her name are the Elizabeth D. Rockwell President's Suite in the Houston Alumni Center, the Elizabeth D. Rockwell Career Services Center in the C.T. Bauer College of Business and the Elizabeth D. Rockwell Pavilion, where friends and family will celebrate her life this week. Each year, the university hosts the Elizabeth D. Rockwell Ethics and Leadership Lecture series, which brings noted scholars, researchers and innovators to campus.
Rockwell also endowed the chairs for the deans of the M. D. Anderson Library, the College of Education and the Cullen College of Engineering.
Rockwell attended UH and majored in business administration and accounting. In 1999, she received an honorary doctorate from UH.
Click here for a detailed biography on Rockwell.
---