At the University of Houston (UH), a student organization is committed to taking the shirt off your back - if it's a T-shirt affiliated with another school.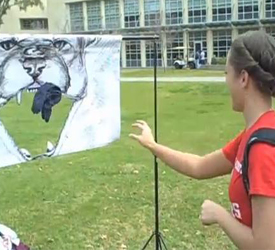 UH Pride Ambassadors, a student organization dedicated to creating and spreading school pride, have collected more than a thousand T-shirts since the beginning of the school year, offering to "Trade-up Other Schools' Shirts" (TOSS) for new UH T-shirts.  
"We don't like seeing other schools' shirts on our campus. We want UH students to wear UH shirts," said Cameron Bailey, a UH junior and pride ambassador. "We want our fellow Cougars to show pride in their university. That's what the TOSS campaign is all about, and students have overwhelmingly responded."
UH Pride Ambassadors are hosting the final TOSS event of the spring semester from 5 to 7:30 p.m., Wednesday, April 20, outside the Cougar Softball Stadium. The event takes place in conjunction with the 5th Annual Striking Out Breast Cancer softball game between UH and Texas A&M Univeristy. The community is invited to bring clothing items from other schools, and go home with a new UH T-shirt.
The shirts collected will be donated to Goodwill Houston, which will recycle the fabric into new shirts for people in need. Goodwill Houston provides education, training and job opportunities to people with disabilities and other barriers to employment.
For more information contact Gus Forward at gjforwar@central.uh.edu or 713-743-8175. You can also visit TOSS online.
---