The University of Houston celebrates International Education Week, Nov. 15-19, with music, food and a host of activities to showcase the importance of a global perspective and learning opportunities.   
International Education Week is a joint project of the U.S departments of State and Education.  It debuted in 2000 and is intended to "promote international understanding and build support for international educational exchanges ... prepare Americans to live and work in a global environment and attract future leaders from abroad to study in the United States."  
"The University of Houston is a microcosm of the world and an example of the importance of a global awareness," said Jerald Strickland, UH chief global officer and assistant vice president for international studies and programs.  "With more than 130 countries represented in our student body, UH is committed to international education for students from the U.S. and from abroad." 
Among the UH activities planned:
An International Marketplace featuring food from students' native countries
An exchange between Study Abroad and international students with students from Jackson Middle School
Virtual games to test knowledge of geography, customs and cultural dress
Panel discussion with students, faculty and staff who have chosen to become U.S. citizens 
For a complete lineup of International Education Week activities at UH visit http://issso.uh.edu/events/iew2010.shtml.
Additionally, the U.S. Postal Service will be on hand that week to assist those on campus in applying for passports.  Students who will be studying abroad will be briefed about health and safety issues for travel to Europe, Mexico, Central and Latin America.    
"International student organizations at UH have been eager to share their culture with our campus community," said Anita Gaines, director of international student and scholar services.  "These future leaders are learning and teaching global awareness." 
The UH activities for International Education Week are coordinated by the International Student Scholar Services Office, the Office of International Studies and Programs, Language and Culture Center, C. T. Bauer College of Business, the Council of Ethnic Organizations and the Student Government Association.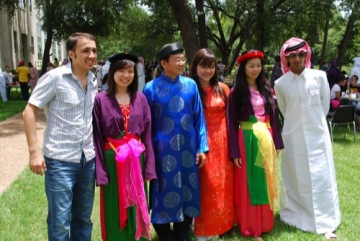 "Professors develop intelligent people," said Parul Fernandes, director of the Office of International Studies and Programs.  "Studying abroad develops intellectuals."  
For more information on International Education Week visit http://iew.state.gov/ 
Listen to the UH Moment:  http://app1.kuhf.org/houston_public_radio-news-display.php?articles_id=1289942814
WHAT: International Education Week at UH
WHEN: Nov. 15 - 19
WHERE:  Locations around campus
---