Answering the call for more math and science teachers, University of Houston's
teach
HOUSTON program has increased more than twentyfold since its inception just three years ago. 
Starting with 14 students in 2007, the program enrollment is up to almost 300 and has surpassed not only its goals but also the program it was patterned after.  Modeled after the now 12-year-old UTeach at the University of Texas at Austin,
teach
HOUSTON is a math and science teacher-preparation program at UH.  Its intent is to help urban schools attract and retain qualified secondary personnel by immersing aspiring math and science educators in public school classrooms early in their college careers.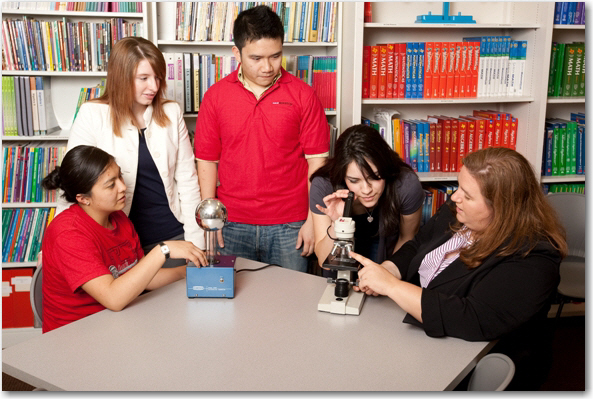 Within the past two years,
teach
HOUSTON students have accumulated $100,000 in scholarships from the National Science Foundation (NSF) Robert Noyce Scholarship Program.  Another $40,000 in NSF Noyce scholarships will be awarded next fall, bringing the total up to $140,000.  Each scholarship is for $10,000 and seeks to support students who will become outstanding future science, technology, engineering and mathematics (STEM) teachers upon completing their degrees.  STEM education is viewed the world over as a key component to competitiveness and economic prosperity for many a nation. 
Six Noyce scholarships were awarded in the spring 2009 semester, four were given in spring 2010 and an additional four will be handed out in fall 2010.  The most recent Noyce scholarship recipients include mathematics majors Maria Gonzales and Maria Martinez, biology major Maria Villegas and biochemistry major Keri King.  King is actually a two-time recipient of the scholarship from both the 2009 and 2010 spring semesters and will begin student teaching in 2012. 
"Without this scholarship, I would not be at UH, closing in on my goal of a B.S. in biochemical and biophysical sciences and preparing to teach at a high school where I am needed most," King said.  "I had planned on teaching at an at-risk school even without the scholarship.  I feel those students are in need of teachers who not only care for the subject they teach, but also for the future of their students.  I will push and elevate students beyond simply getting through class. I will inspire the next generation of scientists." 
The NSF Noyce scholarships provide funding for juniors and seniors majoring in STEM fields and seeking to become teachers.  Students must demonstrate outstanding skills as STEM teacher candidates, as well as a passion for making a difference in the world through teaching.  Selection for the scholarship is determined by excellent academic and professional performance, with one of its primary goals being to recruit and support individuals with strong STEM backgrounds who might otherwise not have considered a career in secondary teaching. 
Recipients of this scholarship are expected to graduate with a major in a STEM discipline and teacher certification in their major field of study.  They must commit to completion of two years of service as a mathematics or science teacher for each year the scholarship is received.  Service must be completed within eight years of graduation and must be performed in a high-need school. 
"It's very important we continue to find scholarship money for talented future teachers," said Jeff Morgan, chair of the department of mathematics in UH's College of Natural Sciences and Mathematics.  "The NSF Noyce scholarships are representative of what these students deserve and need, and obtaining additional scholarships of this type will play an important role in meeting our goal of graduating 100 teachers annually in STEM areas by 2015." 
Having recruited 171 new
teach
HOUSTON students this academic year, the program is well on its way toward reaching that goal. 
###


NOTE TO JOURNALISTS: 
High-resolution photos of
teach
HOUSTON Noyce scholarship recipients in a hands-on class are available by contacting Lisa Merkl. 
About the University of Houston
The University of Houston, Texas' premier metropolitan research and teaching institution, is home to more than 40 research centers and institutes and sponsors more than 300 partnerships with corporate, civic and governmental entities.  UH, the most diverse research university in the country, stands at the forefront of education, research and service with more than 37,000 students. 
For more information about UH, visit the university's Newsroom at
http://www.uh.edu/news-events/
. 
To receive UH science news via e-mail, visit
http://www.uh.edu/news-events/mailing-lists/sciencelistserv.php
. 
For additional news alerts about UH, follow us on
Facebook
and
Twitter
. 
---