Each spring, the University of Houston becomes a hotbed for sizzling jazz sets that pair venerable vets with student talents.

The 2010 UH Moores Jazz Festival continues this tradition of bringing top jazz players to campus for a weekend of concerts and clinics. Acclaimed trumpet king Brian Lynch is the special guest at this year's event, which runs Feb. 19 - 20 at UH's Moores School of Music.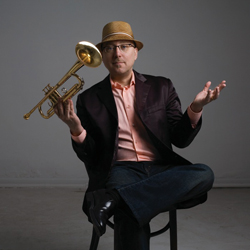 During the festival, Lynch will conduct clinics for Houston area high school and middle school students and perform alongside the Moores Jazz Ensemble.
Lynch has performed with a range of artists including Afro-Caribbean legend Eddie Palmieri, bebop master Phil Woods, Barbarito Torres of the Buena Vista Social Club, Art Blakely and many others. His albums include "Peer Pressure," "Spheres of Influence," "Que Viva Coltrane" (with Conrad Herwig) and "Simpatico" (with Eddie Palmieri).
Since its debut in 1999, the Moores Jazz Festival has become a much-anticipated event at the university bringing in jazz stars such as Blood, Sweat and Tears trumpeter Lew Soloff, late sax master Michael Brecker, trumpeter Randy Brecker and seasoned sax player Bill Evans.
For more details on the festival, visit http://www.music.uh.edu/jazzfestival/. To purchase tickets, call 713-743-3313.
WHAT:
2010 Moores Jazz Festival
WHEN:
7:30 p.m., Feb. 19, Texas Music Festival Jazz Project
7:30 p.m., Feb. 20, Moores Jazz Orchestra and Brian Lynch
WHERE:
Moores Opera House
University of Houston - Entrance 16 off Cullen Boulevard
WHO:
University of Houston/Moores School of Music
---