Vocalists, set designers, costumers and orchestra musicians are all putting the final touches on "Elmer Gantry," the latest production from the University of Houston's Edythe Bates Old Moores Opera Center.
This city premiere runs April 9 - 12 in the Moores Opera House, and audiences are already anticipating another spectacular performance from the university's talents.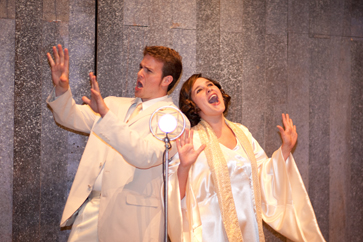 Such expectations stem from the center's 25-year history of delivering lavish, quality operas to Houstonians. This year marks the silver anniversary of the University of Houston's opera program. Although no official  party is planned to commemorate the occasion, the center will celebrate by doing what it does best - making beautiful  music for the masses.
"Elmer Gantry" is just one of the many operas the center has introduced to Houstonians. While this production is receiving grand treatment from all participants, there was a time when an orchestra or even sets weren't available.
Prior to UH having its own opera program, the university partnered with Houston Grand Opera to create the Houston Opera Studio. In 1985, Buck Ross, director of the Moores Opera Center, arrived on campus to help the university launch its own opera program.
He founded the University Opera Theatre, which provided students with performance opportunities and Houstonians with a new venue for opera. With no budget and little performance space, Ross oversaw UH's first opera production, "The Mother of Us All" in 1986.
"Our first show was in the 300-seat Dudley Recital Hall," he said. "We did it with just a piano, some costumes and no scenery. The students were aware that this was something new, and they were excited. They rose to the occasion, and it came off very well."
That low-budget, but polished, performance provided a launching pad for future operas on campus. By the next year, productions were performed in either the 1,500-seat Cullen Performance Hall or the 600-seat Lyndall Finley Wortham Theatre. Replacing the piano accompaniment was a full orchestra. Sets and costumes during this period were provided by the School of Theatre & Dance. Now, the center has its own team of costume, lighting and set designers.
In 1997, a generous gift from John J. and Rebecca Moores helped build the 800-seat Moores Opera House. Its construction initiated the name change from University Opera Theatre to the Moores Opera Center. Following an endowment from Houston philanthropist Edythe Bates Old in 1999, the center was officially titled the Edythe Bates Old Moores Opera Center.
Although Ross planted the seeds for home-grown operas at UH, he admits he couldn't have expanded the program without the energies of fellow faculty, staff and students. Among those invaluable individuals was longtime music director Peter Jacoby.
"He played a vital part in our growth," Ross said. " I could not imagine us being where we are without his musical guidance."
In addition to Jacoby, Ross also applauds the many student singers who have committed their time and talents to the center's productions. Some of these vocalists have emerged as world-class entertainers including Barbara Padilla, who enrolled at UH while undergoing rigorous cancer treatments. Last year, she became an instant celebrity as the runner-up on NBC's "America's Got Talent."
Another recent success story is Nathaniel Peake, who is now an artist with the Houston Grand Opera Studio. Peake recently earned honors in two highly noted competitions: the Metropolitan Opera National Council Auditions and the George London Foundation Awards.
Others who have embarked on successful professional opera careers after graduating from UH include Bruce Fowler, Debra Hayes, Barbara Divis, Sam Handley, Joseph Gaines and Javier Abreu.
"I had an interesting conversation with Sam Handley, who is with Lyric Opera of Chicago," Ross said. "He thanked me and said, 'I am so glad you made us perform such challenging material.' He said many of his colleagues are simply not prepared to learn the kind of music that he was exposed to as a student."
In addition to being a training ground for new talents, the Edythe Bates Old Moores Opera Center also has become a source for fresh works. "Elmer Gantry," which debuted in Nashville in 2007, is just one example of the contemporary operas the center has brought to Houston. The center also has presented the Texas premieres of "The Grapes of Wrath" in 2009 and "A Wedding" in 2008 among many others.
"We have a long history of producing new operas," Ross said. "Through my own graduate training and in the early part of my professional career, I have worked with new operas. I feel that showcasing innovative, contemporary works is part of the university's mission. These works provide solid training for the students and offer audiences unique and entertaining experiences."
Aside from recent works, the center also presents classic favorites (Mozart's "Don Giovanni") and rarely performed works (Poulenc's "Les Mamelles de Tiresias"). Among the performances that have been commercially recorded are "A Room with a View" (available on DVD) and "Casanova's Homecoming" (on compact disc).
Each semester, the center offers two to three operas. For both opera lovers and even those new to the genre, these productions are solid bets for both quality and affordability. With tickets ranging from $10 - $15, a night at the Moores Opera House is indeed a bargain. According to Ross, the center is one of the best kept secrets in town.
"We cover a lot of repertoire that people would not get to see anywhere else," he said. "I love challenges, and so do the students. When they're challenged by the work, they embrace the work. That's a good thing for them, but it's also great for audiences who experience passionate performances that they won't see anywhere else."
Audiences can see what Ross is talking about during "Elmer Gantry." Performances are 7:30 p.m., April 9 - 10 and 12, and 2 p.m., April 11 in UH's Moores Opera House (Entrance 16 off Cullen Boulevard). Tickets are $15 and $10 for students and seniors. To purchase tickets, contact the Moores box office at 713-743-3313.
To learn more about the Edythe Bates Moores Old Opera Center, visit www.music.uh.edu/opera.
---