Click For Video Highlights of Coach Dickey's Press Conference
 A veteran of multiple NCAA Tournaments, James Dickey was introduced Thursday afternoon as the University of Houston men's basketball head coach.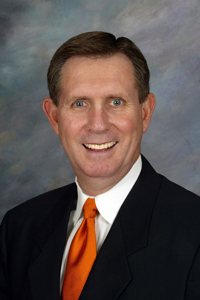 Dickey became the eighth coach in the history of the Houston program. As a head coach at Texas Tech for 10 years or in a 17-year career as an assistant coach at Oklahoma State, Kentucky, Arkansas, Central Arkansas and Harding College, he mentored more than 20 players who played in the National Basketball Association (NBA), competed in 12 NCAA Tournaments and earned six conference or district Coach of the Year awards.
Under his guidance, Texas Tech captured three regular-season or tournament championships during his career, including a sweep of both titles in 1996.
"The more people I spoke with during our coaching search, the more good things I heard about James, his character and the quality of program that he leads. Winning basketball programs, with first-class student-athletes on and off the court, have followed James throughout his career, and that is certainly no coincidence," Houston director of athletics Mack Rhoades told a crowd of fans inside the Great Hall at the Athletics/Alumni Center. "He is an exceptional leader and mentor of young men. We are excited to have James lead our basketball program, and we welcome him, Bettye, Lauren and Jared to our Cougar family."
Following a death in his family, Dickey sat out of the coaching ranks for the last two years to care for his family. Prior to that, he served for six seasons as an assistant coach at Oklahoma State. During his stint in Stillwater, Dickey helped lead the Cowboys to six straight postseason tournaments, including a 31-4 record and appearance in the 2004 NCAA Final Four.
He became familiar with the Cowboy program as a color commentator for one season prior to joining the OSU sideline.
Dickey followed Tom Penders, who resigned March 22 after six years at the helm of the Cougar bench.
For more details on Dickey, read the full UH Athletics
---