Center for Public Policy Events
The Hobby School of Public Affairs invites you to attend the Center for Public Policy speaker events.
Upcoming Speakers
 Coming Soon
Past Speakers
November 16, 2017
12:00 pm - 1:00 pm
PGH 447 - Werlin Room
How Are Workers Compensated Following Trade Liberalization?
Sung Eun Kim
Read a copy of the presentation.
Abstract: How do workers cope with the adjustment costs from trade liberalization? Governments' ability to deal with the distributional consequences of lifting trade barriers has become one of the key challenges facing developed democracies. Recent studies have shown how among workers harmed by liberalization, some turn to dedicated government training programs, while others fall back on disability payments and early retirement. These choices largely determine the odds of an individual returning to work, so what explains the variation? We argue that US legislators have influence over how workers in their districts choose to adjust to job losses resulting from trade liberalization. Using roll call votes and legislators' press releases on trade adjustment assistance (TAA), we find that workers are significantly more likely to petition for trade assistance and retraining when legislators publicly endorse these programs. Workers in these districts appear better informed about these programs, and more likely to apply to them. We proxy for the demand for trade adjustment by using economic shocks from Chinese import competition. By examining legislative voting histories, we are further able to distinguish the independent effect of legislators' public statements on their constituents' behavior. Our findings hold considerable implications for the salient question of how government compensation programs affect the behavior of groups negatively affected by liberalization.
Co-Sponsored by the Department of Political Science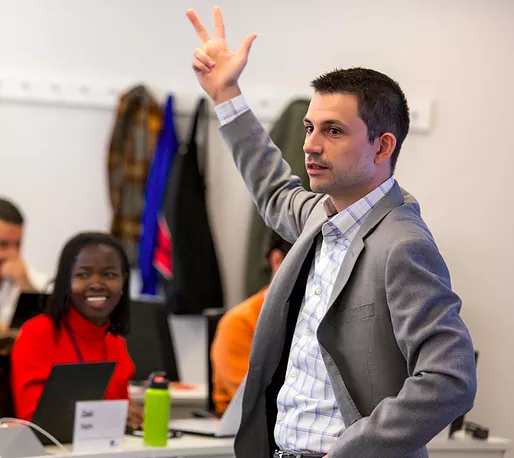 October 30, 2017
12:30 PM - 1:45 PM
315 McElhinney
Business Associations, Judicial Institutions, and Firms' Willingness to Contract
Daniel J. Blake
Professor Blake is a member of the Department of Strategic Management at IE Business School in Madrid. He is a specialist the areas of strategy, nonmarket strategy, international business, and political risk. His research focuses on how varying institutional conditions around the world affect firms' activities and risk management strategies. 
Co-Sponsored by the Department of Political Science