Application Deadline: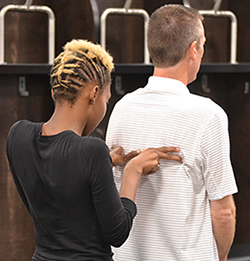 The MAT program only begins in summer semesters and all applications must be submitted by January 15th. All supporting material must be received by the department before February 15th. Check the FAQ for any questions related to the application.
Contact us for application related questions
Application and Candidate Selection Process:
Completed University of Houston Graduate School application.

Official GRE scores sent electronically to institution code 6870 – University of Houston, Main Campus

Official transcripts from all prior institutions attended.

Major GPA of at least 3.0

A cumulative undergraduate GPA of 2.6 is required to be considered for graduate school at The University of Houston

Current resume

Statement of professional goals and interests

Three academic/professional letters of recommendation

Your recommenders will be contacted automatically and asked to evaluate you through an online system. They should be encouraged to provide comments and/or upload a signed letter as well.

Offsite video interview

Phone interview with potential candidates.

50 hours of observation directly supervised by a certified and licensed Athletic Trainer

Required Prerequisite courses (Minimum grade of 'C')

Anatomy and Physiology (8 credit hours)

 UH Course - BIOL 1334/1134 and 1344/1144

Biomechanics (3 credit hours)

Exercise Physiology (3 credit hours)

General Psychology (3 credit hours)

Statistics (3 credit hours)

Recommended prerequisite courses in addition to requirements (Minimum grade of "C")

Functional Anatomy (3 credit hours)

Motor Learning (3 credit hours)

Introduction to Nutrition (3 credit hours)
ALL supporting materials, with the exception of official transcripts, should be uploaded through the online application system.
Official transcripts should be submitted to: 
University of Houston
Graduate Admissions
P.O. Box 3947
Houston, Texas 77253-3947