UH Energy has $1.6 billion economic impact on local region By Janet Miranda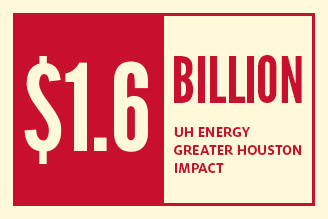 A new study reports that UH Energy, which oversees efforts across University of Houston to serve as a strategic partner to the energy industry, added $1.6 billion to the Greater Houston economy during fiscal year 2017-2018.
The data comes from a study by economic modeling company Emsi. It analyzed the University's economic impact on both the regional economy and the state economy. A separate section looked at the impact of UH Energy, calculating its economic impact and return on investment to major stakeholders, students, taxpayers and society.
UH Energy, and its efforts to produce a skilled industry workforce and stimulate technological innovation, had a regional employment impact equal to the creation of 13,882 jobs, the study found. Among other datapoints:
$1.3 billion , added income to the Houston regional economy by UH alumni with energy-related degrees
$54.6 million , economic impact of the 12,227 UH students enrolled in energy-related disciplines
$38.7 million , impact of energy-focused research on the UH campus
$8.9 million , impact of energy-centric startup companies launched by UH researchers
The culture of innovation and knowledge creation has also resulted in new inventions, patents and licensing opportunities that benefit society.
The study looked at how a UH education in an energy-related discipline impacts a student's lifetime earnings. Median annual salary for a student with a bachelor's degree is $93,400, compared to $44,300 for someone with a high school diploma.
Taxpayers benefit, too, with an additional $7 in tax revenue and savings for every $1 invested in UH Energy, and an additional $14.10 in income and social savings generated for society.
It demonstrates the impact and reach of the University of Houston's energy-related programs, along with the impact from students who graduated from the university, said Chief Energy Officer Ramanan Krishnamoorti.