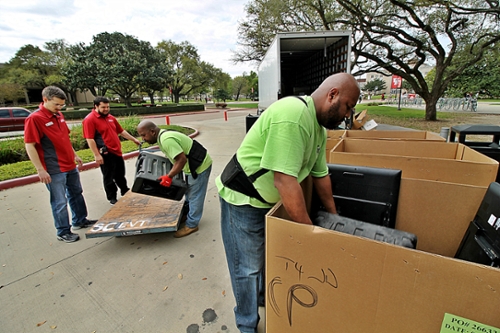 The old adage of "reuse, reduce, recycle" continues for its fifth year at the University of Houston, as the Office of Sustainability and its partner, Bass Computer Recycling, are offering students, faculty and staff the means to consciously dispose of old and unused electronics.
This year's electronics recycling drive is Thursday, March 28, from 8 a.m. to 1 p.m., in the Student Center South Circle Drive. 
No University property will be accepted. A full list of items and materials that Bass Computer Recycling will accept is available online. 
Among the items that will be accepted include: 
Cable/wire
Circuit boards
Computers
Drivers
Fax machines
Mainframe
Monitors
Networking equipment
Power strips
Printers
Scanners
Servers
Telephones/cell phones
VCR/DVD players
Items that will not be accepted include:
Ferrous materials
Hazardous materials
Household appliances
Larger copiers
Non-computer plastics
Paper
Refrigerators
Televisions
University of Houston-owned property
Wood 
Bass Computer Recycling, an R-2 certified recycler and a TCEQ approved manufacturer with more than 25 years of experience in the technology industry, will process all of the donated electronics. It has the experience and the facility to design and implement a plan for e-waste needs, and can also clean, test and refurbish the equipment for resale. Items that cannot be refurbished will be deconstructed and recycled consciously to be reused elsewhere.
For questions regarding the electronics recycling drive, contact the Office of Sustainability at sustainability@uh.edu or 832-842-9051.