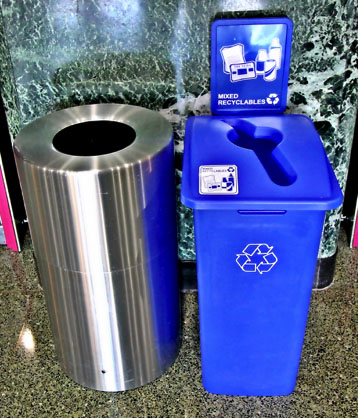 Scattered strategically throughout the historic Cullen Performance Hall are 15 newly installed blue recycling bins, courtesy of a 2017 Coca-Cola/Keep America Beautiful Public Recycling Grant.
UH is one of numerous universities and organizations across the United States who were selected to receive bins through the grant.
Theater Director Carrie Miller is excited and grateful for the bins, each of which have been placed directly next to regular garbage cans throughout the venue. They will allow the thousands of patrons who attend various concerts, shows and functions each year to properly dispose of any waste products that are recyclable.
"Many of the products we sell during shows could be recycled and will greatly reduce the amount of trash we produce," Miller said. "In addition, many of our shows and vendors have a significant amount of cardboard and paper waste. These are a great addition to Cullen Performance Hall." 
UH Office of Sustainability Manager Michael Mendoza, who spearheaded the effort to apply for the grant, said Cullen Performance Hall is a great venue to showcase campus sustainability efforts. The recycling bins align with the Division of Administration and Finance's strategic goal to foster a culture of sustainability. 
"We are proud to partner with Cullen Performance Hall and appreciate the opportunity from Keep America Beautiful to keep sustainability in the public view," Mendoza said. 
Acceptable items to place in the single stream recycling bins include:
Plastics Nos. 1-5 and 7 (Styrofoam and No. 6 plastics are not accepted)
Aluminum, steel and tin cans, bottles, foil, paperclips and small metal pieces
Tetra Pak containers, which include milk cartons and soup containers
White or colored paper, magazines, newspaper, paper board, cardboard, construction paper and card stock
For more information about sustainability efforts on campus, visit the Office of Sustainability website. Information about Cullen Performance Hall, including upcoming shows and rental information, can be found on the venue's website.