Joint Admission Medical Program

The Joint Admission Medical Program (JAMP) is a unique program created to provide support for economically disadvantaged students from across the State of Texas to successfully pursue a career in medicine.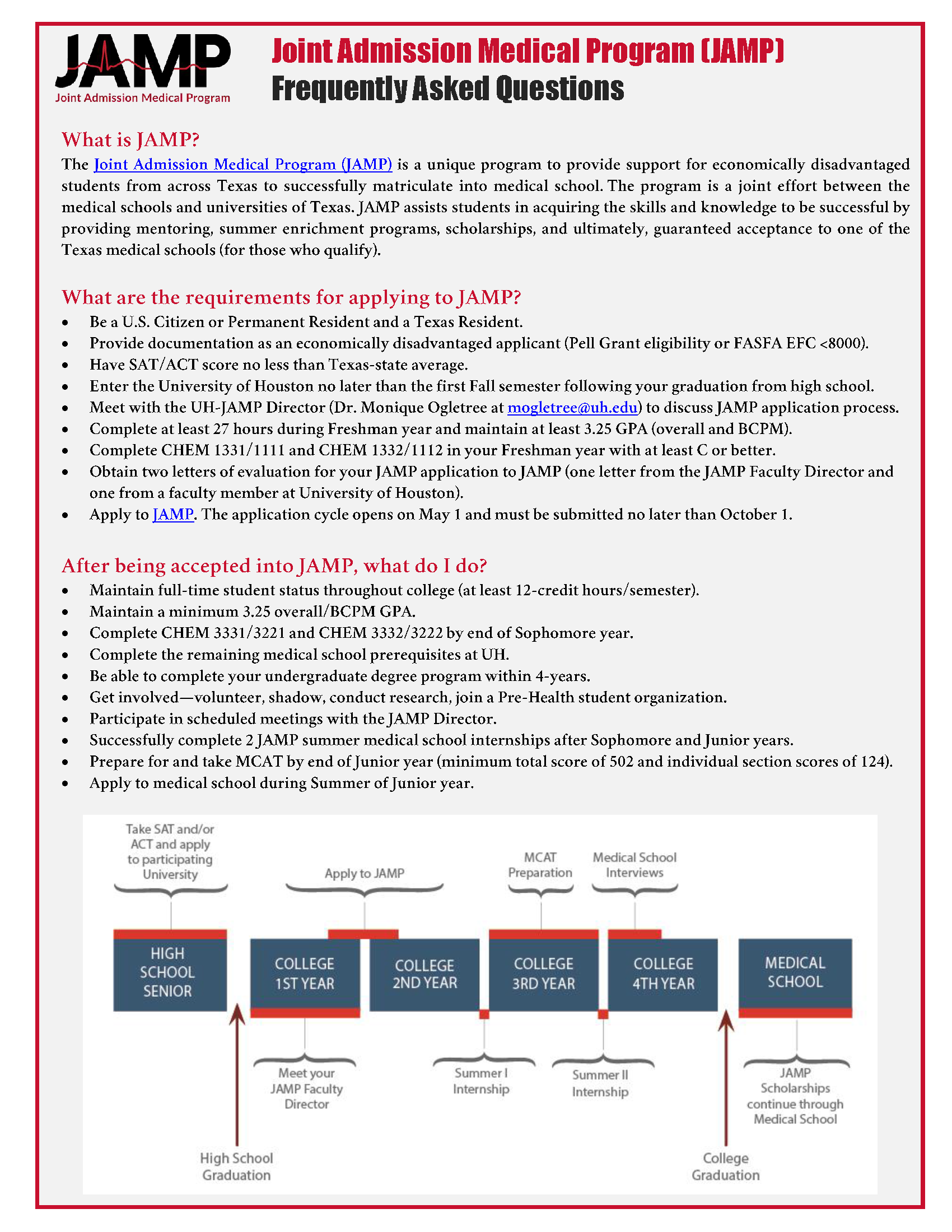 The program is a joint effort between the medical schools and the public and private universities of Texas. JAMP assists students in acquiring the skills and knowledge to be successful by providing mentoring, summer enrichment programs, scholarships, and ultimately, acceptance to one of the Texas medical schools.
If you have an interest in becoming a physician, you should explore what JAMP has to offer you. It will provide you with valuable academic and personal assistance as you prepare to enter the medical profession.
For more information, contact UH JAMP Director: Dr. Monique Ogletree at mogletree@uh.edu.
Getting started on the right foot takes some planning. There are steps you will need to take, and there are things you will want to make sure are taken care of, both before you graduate from high school and as you enroll in college.
As a senior in high school, you need to:
Apply to College - Apply to a Texas college or university to enroll for the fall semester immediately following your graduation from high school or home-school program.
Take the SAT or ACT - You must earn a score not less than the mean for the state of Texas
Apply for Financial Aid - You must complete the Free Application for Federal Student Aid (FAFSA) and be eligible to receive a Pell Grant and/or an Estimated Family Contribution (EFC) up to $8,000 in your freshman year of college.
Learn Your Deadlines - Many deadlines fall much further in advance than you may anticipate, and may be different for different educational institutions and areas of the state. And remember, even with advance planning it's normal for some things to not go smoothly. Keep your opportunities open by always looking ahead, and allowing plenty of time.
As a freshman in college, you need to:
Enter the University of Houston no later than the first fall semester following your graduation from high school or a home-schooled program.
Meet with your UH-JAMP Advisor. The UH-JAMP Advisors will introduce you to the program, answer your questions about your freshman year coursework and help you to understand the application process for JAMP. For more information, contact UH JAMP Director: Dr. Monique Ogletree at mogletree@uh.edu. 
Study Hard - During your freshman year, you must complete at least 27 hours of undergraduate credit (including math and science courses) with a 3.25 or higher cumulative and math and science GPA. (No more than 3 hours of AP credit can be counted toward this requirement).
Participate in meetings with the JAMP Faculty Director and JAMP advisor during the freshman "Pre-JAMP" academic year.
Get involved, volunteer for community service projects, join a pre-health student organization on campus, These activities will help you to be motivated, practice your interpersonal communication skills, and show us that you have a strong commitment and determination to pursue a career in medicine.
Get to know your Professors, you will need to obtain two letters of recommendation for your application to JAMP; one letter from the JAMP Faculty Director and one from a faculty member at University of Houston. Go to your professor's office hours, ask questions in class, and let your professors know about your aspirations of going to medical school.
Apply to JAMP. The application cycle begins in the spring semester. You may begin the online application on May 1 and must submit the completed application no later than October 1.
See also:
UH JAMP wants you to find success here at UH. So, to help you form an idea of how the collaboration between you and UH JAMP should work, consider the following:
During your undergraduate career you will be expected to master not only the academic course content required by medical schools, but to develop and enhance other background skills as well. In addition to intellectual ability, successful applicants will be expected to demonstrate maturity and commitment as well as well-rounded social and interpersonal skills.
A critical first step for you will be setting and keeping an appointment with an advisor from the Academic Advising Center. Our advising services are designed to help you:
Identify medical school course prerequisites and develop a timeline for completing coursework and other requirements as appropriate for you as an individual;
Evaluate your choice of undergraduate major and how to incorporate premed requirements most effectively;
Find assistance in the areas of academic tutoring, study skills development, interview skills development, and specific degree advising by providing direct referrals to academic departments and student service areas;
Locate volunteer opportunities in clinical and/or research settings;
Develop strategies for MCAT preparation;
Understand and strengthen your medical school applications;
Gather letters of recommendation and prepare for review by the UH Health Professions Advisory Committee; and
Identify student groups and extracurricular activities that could help support and strengthen your background preparation.