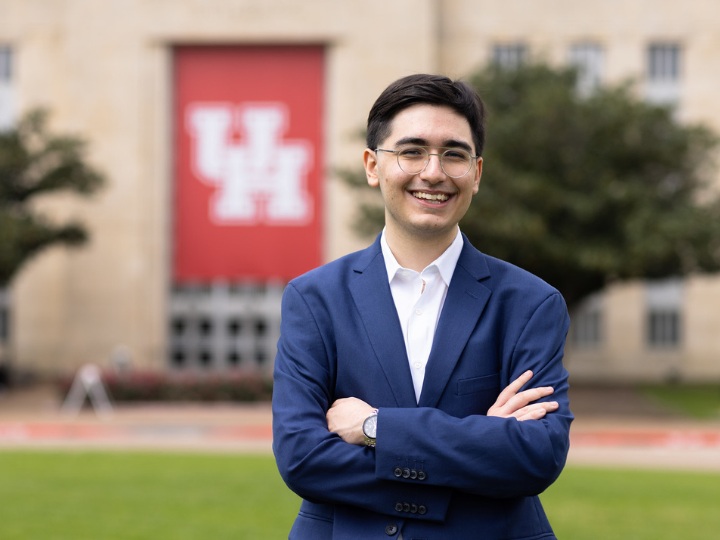 Texas Gov. Greg Abbott has appointed University of Houston student Mielad Ziaee to serve as the student regent on the UH System Board of Regents. Ziaee will serve on the board until May 31, 2024, representing students across all four UH System universities.
"It's a great honor to be named a student regent for the UH System," Ziaee said. "I am looking forward to representing my fellow students and advocating on their behalf, especially our non-traditional students, and evaluating and improving outcomes for all students."
The appointment for the 2023-24 academic year is the latest in an already impressive list of accomplishments for Ziaee, a rising junior from Houston. Last year, he was named "Outstanding First Year Student" in the UH Honors College and was selected as a finalist in the "ExCITE Talk Competition." He has also been chosen as a Houston Livestock Show and Rodeo Scholar and received the highest youth award given by the American Red Cross, where he has served as a volunteer for several years.
"I extend my heartfelt congratulations to Mielad on his well-deserved appointment to the Board of Regents," said UH System Chancellor Renu Khator. "I am confident that he will bring a fresh perspective, valuable insights and unwavering advocacy to the University of Houston System and I am excited to work alongside him in shaping the future of our universities."
A first generation Iranian-American, Ziaee is majoring in psychology and hopes to one day work at the intersection of medicine, public policy and technology. He is currently pursuing his passion for data and analytics with UH's Hewlett Packard Data Science Institute. As a Pharis Fellow, he worked to address issues of food security in the Houston area by exploring the challenges of food pantries and meal sites.
"I want to conduct data-driven, human-centered research to increase access to quality health care," Ziaee said. "And hopefully that research along with clinical work will ultimately improve health-related policies."
Ziaee will work with the nine members of the UH System Board of Regents to make governing decisions for the system and each of its four universities. Although he won't have a vote on the board, he will be the voice of the system's nearly 75,000 students. Ziaee replaces Edward Carrizales- Saucedo, who was also a UH student.
"College, especially in the UH System, is a beacon of social mobility," Ziaee said. "You can become anything you aspire to be."
---