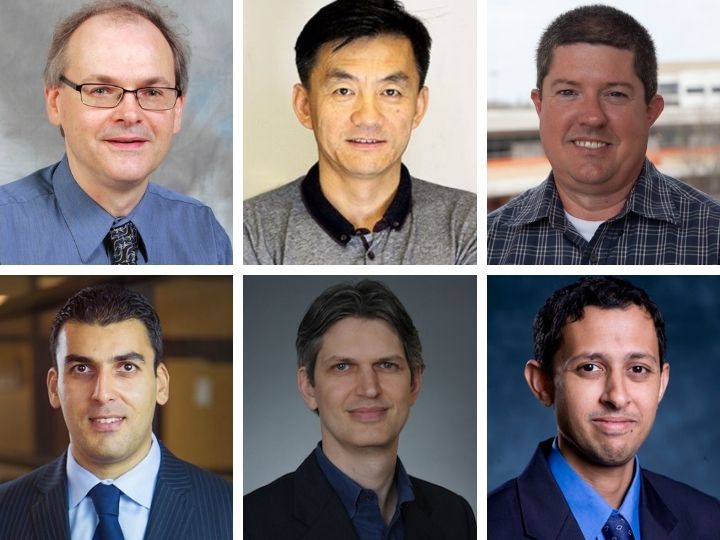 Six University of Houston professors have been named Senior Members of the National Academy of Inventors (NAI), the most UH faculty members to earn the honor in a single election year.
Greg Cuny, Jeff Feng, James Flynn, Hadi Ghasemi, Luca Pollonini and Navin Varadarajan are among 83 academic inventors from institutions around the country chosen for their "success in patents, licensing, and commercialization" and for producing "technologies that have brought, or aspire to bring, real impact on the welfare of society." The University of Houston now has 30 faculty members in the National Academy of Inventors.
 "These accomplished innovators are daring to dream big and think big for the betterment of society. They are terrific examples of what can be accomplished when you combine knowledge with creativity and perseverance," said Paula Myrick Short, senior vice president for academic affairs and provost at UH. "I sincerely congratulate them all for this well-deserved honor."
The newest NAI Senior Members at UH represent innovation in the fields of engineering, medicine, computer science and atmospheric science:
Greg Cuny, associate professor of medicinal chemistry in the College of Pharmacy, leads a lab that is focused on designing and optimizing pharmacology probes to develop therapeutic strategies for treating diseases. 
Jeff Feng, associate professor in the Gerald D. Hines College of Architecture and Design, has nearly two decades of experience designing and developing new products in a variety of industries, including health care, consumer electronics and product packaging. 
James Flynn, research associate professor in the College of Natural Sciences and Mathematics, developed an inexpensive and accurate sensor for detecting sulfur dioxide, evaluating its impact on the stratosphere, and allowing for validation of models being used to predict future climate change.
Hadi Ghasemi, Cullen Associate Professor of Mechanical Engineering in the Cullen College of Engineering, is focused on thermodynamics, heat transfer, and nanotechnology and developing solutions for energy problems highlighted by rapid growth, rising environmental issues and increased competition for resources. 
Luca Pollonini, associate professor in computer technology engineering in the College of Technology, is an expert in the design and development of biomedical sensors and instrumentation based on optical technologies, including a suite of wearable sensors that indicate exercise thresholds. 
Navin Varadarajan, D. Anderson Professor of Chemical and Biomolecular Engineering in the Cullen College of Engineering, is pioneering screens designed to characterize a wide range of biological functions that aid research into treatments for a variety of autoimmune diseases and cancer.
"Innovating technologies that solve problems and make a difference is people's lives is at the heart of what we do," said Amr Elnashai, UH vice president for research and technology transfer. "This recognition is a testament to the important work being done at UH and its impact in Texas, across the country and around the world."
Following a nomination for NAI Senior Member, individuals undergo a rigorous selection process by the NAI Senior Member Advisory Committee, which is composed of elected NAI Fellows who are considered pioneers in their respective fields. The new Senior Members represent 41 research universities and are named inventors on over 1,000 patents. 
"Today, these Senior Members, on their path of prolific discovery, join the NAI innovation community," said Paul R. Sanberg FNAI, President of the NAI, "With the NAI Senior Member award distinction, we recognize and honor these innovators who are rising stars in their fields." 
The new Senior Members will be inducted at the Senior Member Ceremony at the 11th Annual Meeting of the National Academy of Inventors this upcoming June 14-15 in Phoenix, Arizona. 
A full list of Senior Members is available on the NAI website.
---