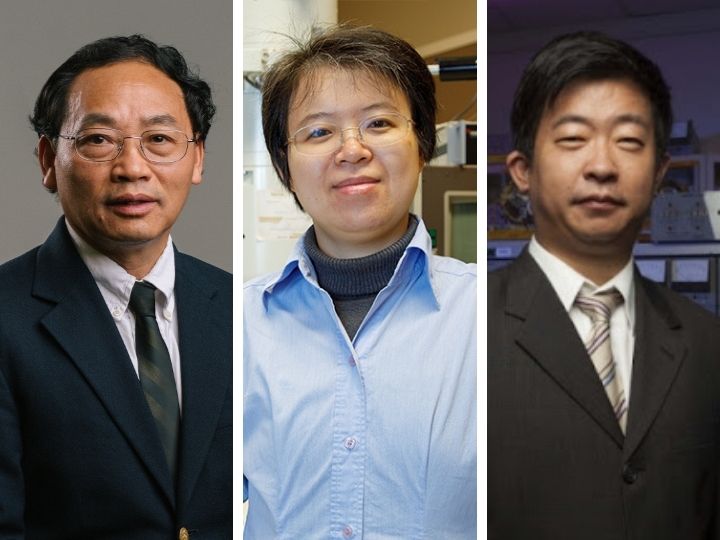 Three University of Houston researchers have been recognized as the "world's most influential researchers" for ranking in the top 1% of highly cited papers. The recognition comes from Clarivate, a global leader in providing insights and analytics to accelerate the pace of innovation.  
Named from the University of Houston for 2021 are Zhu Han, Moores Professor of electrical and computer engineering, Zhifeng Ren, M.D. Anderson Chair Professor of physics, and Shuo Chen, associate professor of physics. Ren and Chen are principle researchers at the Texas Center for Superconductivity at University of Houston (TcSUH) and are recognized for their impact across fields. 
"I am thrilled to note that our TcSUH researchers are, again, in the top 0.1% of productive and impactful researchers worldwide," said Amr Elnashai, vice president of research and technology transfer at UH. "Having faculty amongst the most highly cited in the world is a testament to the ongoing and expanding research excellence at the University of Houston." 
Han has been cited 52,947 times, according to Google Scholar, with 37,933 citations since 2016. He has an H-Index of 91 (metric that measures both the productivity and citation impact of publications) in the past five years. His research is primarily in the fields of game theory, wireless networking and security, data analysis, and smart grid technology. He was the 2021 recipient of the Institute of Electrical and Electronic Engineers' Kiyo Tomiyasu Award. 
"With strong support from the University of Houston and colleagues at the Cullen College of Engineering and the College of Natural Sciences and Mathematics, I hope I can continue to keep my research pace and this highly cited researcher honor until my retirement," said Han, who has received the ranking every year since 2017. 
Chen, a faculty member at UH's College of Natural Science and Mathematics, was cited 9,645 times for 63 publications, with an H-Index of 40 in the research fields of materials science. Her research focuses on synthesis, microstructure, and electronic structure understandings of materials for energy conversion and storage, including batteries, electrocatalysis and thermoelectrics. 
Ren, director of TcSUH, was cited 44,675 times for 319 papers, with an H-Index of 92 in the research fields of physical sciences. Ren has been included on the Highly Cited Researchers list since 2018. His research includes high-performance thermoelectric materials and devices, catalysts for water splitting to generate hydrogen, nanomaterials for enhanced oil recovery, ultrahigh thermal conductivity in boron arsenide, biodefense applications for killing airborne viruses, superconductivity, solar energy conversion, flexible transparent electrodes, thermal management, mechanics of carbon nanotubes and other nanowires, and nanocomposites, bioagent delivery and biosensors. 
For 2021, the Highly Cited Researchers are based at more than 1,300 institutions all over the world. The list includes 24 Nobel Laureates. 
The Highly Cited Researchers list is produced each year by the Institute for Scientific Information™ at Clarivate. Their names are drawn from the publications that rank in the top 1% by citations for field and publication year in the Web of Science™, the world's most trusted publisher-independent global citation database. 
---