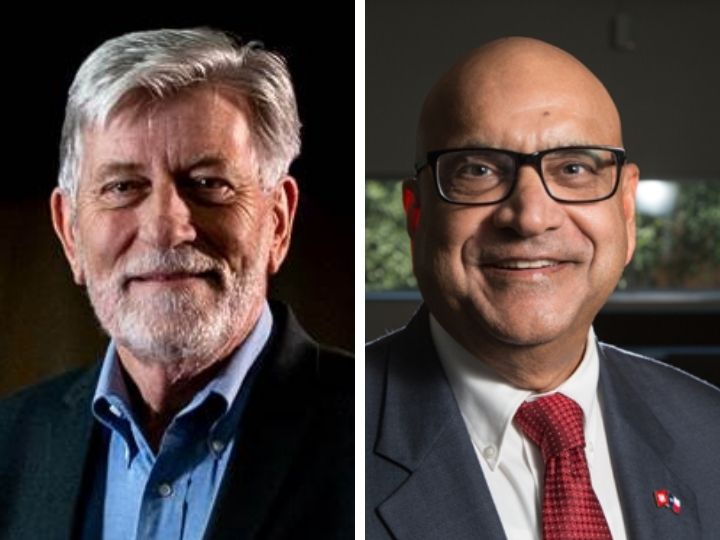 Two University of Houston professors have been named Fellows of the National Academy of Inventors. Alex Ignatiev, professor emeritus of physics and Ganesh Thakur, Distinguished Professor of Petroleum Engineering and director of Energy Industry Partnership, will be officially inducted during the academy's annual meeting in June. Election to NAI Fellow is the highest professional distinction accorded solely to academic inventors. 
Announcing the election of both Ignatiev and Thakur, the academy said both scientists have "demonstrated a highly prolific spirit of innovation in creating or facilitating outstanding inventions that have made a tangible impact on the quality of life, economic development, and welfare of society." 
"The election of two exceptional researchers to the NAI demonstrates the quality of UH research and its applicability to inventions that underpin a higher quality of life," said Amr Elnashai, vice president for research and technology transfer at UH. 
Alex Ignatiev   
In his long and esteemed career, Alex Ignatiev has served as director of two NASA-supported research and technology development centers at the University of Houston, and as Lillie Cranz and Hugh Roy Cullen Professor of Physics, Chemistry, and Electrical and Computer Engineering. He was principal investigator of the Wake Shield Facility (WSF) program, which flew three times on the space shuttle and grew high-purity epitaxial semiconductor films and advanced oxide films in the vacuum of space. 
The WSF is a 12-foot diameter stainless disk-shaped platform launched from the space shuttle that created a unique ultra-vacuum environment in its wake, with a combination of pumping speeds and vacuum levels thousands of times better than the best vacuum chambers on earth. 
"We learned how to grow higher-quality semiconductor and oxide thin films from the shuttle experiments and used that knowledge in the lab to improve the quality of our superconducting films," Ignatiev said. 
He is transferring the knowledge on thin film growth in space to the fabrication of solar cells on the moon. In addition to solar cell and semiconductor materials interests, Ignatiev has focused on high-temperature superconductor and advanced oxide thin film investigations. These efforts have led to the development of high-performance superconducting wires, high dielectric materials, optical detectors, nonvolatile oxide memories and solid oxide fuel cells. 
Ganesh Thakur 
Ganesh Thakur is a pioneer in carbon capture, utilization and storage (CCUS), a vital emissions reduction technology. His patent on forecasting performance of water injection and enhanced oil recovery (EOR) using a hybrid analytical-empirical methodology provided a much faster approach and served as an alternative to more time-consuming reservoir simulation. His team is continuing to push the research envelope for CCUS employing world-class lab research, simulation, machine learning and artificial intelligence.   
Thakur, a member of the National Academy of Engineering, was recruited to UH in 2016 after almost four decades of industry experience with Chevron. The same year, he was awarded a $3 million grant from the Texas Governor's University Research Initiative. This was matched dollar for dollar by UH, making a total research budget of $6 million.     
Thakur also serves as the director for Energy Industrial Partnerships at the University of Houston. This center represents efforts in upstream and midstream as it applies to important applications and will have an immense impact on the state of Texas in the field of energy. As a principal investigator, Thakur has secured external industrial research funding of $5 million in less than five years.   
Under his leadership at UH, researchers have performed extensive research on reservoir management and Carbon Capture and Sequestration (CCS) pilot project for Oil India Ltd. Thakur demonstrated using carbon dioxide captured from nearby petrochemical plants to boost oil recovery in several fields in the Indian state of Assam, to reduce the country's carbon footprint and increase the country's ability to fulfill its energy needs.     
"This ambitious partnership has offered clear benefits for both Oil India and for the University of Houston," said UH President Renu Khator. 
The honor 
The 2021 NAI Fellow class includes164 prolific academic innovators across the world from 116 research universities and governmental and non-profit research institutes. They collectively hold over 4,800 issued U.S. patents. Among the new class of Fellows are 33 members of the National Academies of Sciences, Engineering, and Medicine, and three Nobel Laureates, as well as other honors and distinctions.  
To date, NAI Fellows hold more than 48,000 issued U.S. patents, which have generated over 13,000 licensed technologies and companies, and created more than one million jobs. In addition, over $3 trillion in revenue has been generated based on NAI Fellow discoveries. 
---