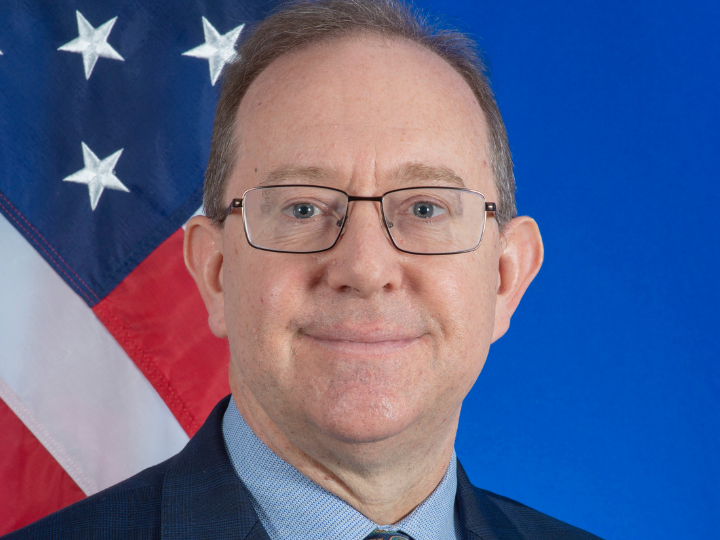 For more than 30 years as an American diplomat, Michael Pelletier worked around the world advancing the goals and objectives of the United States government, most recently as the U.S. Ambassador to Madagascar and Comoros. Now Ambassador Pelletier (Retd.) is bringing his expertise in foreign affairs to the University of Houston, appointed this week as the first executive director of the Institute for Global Engagement, an Aspire Initiative.  
The new interdisciplinary institute aims to enhance students' international and cultural understanding by embedding learning and research experiences focused on globally relevant topics within all academic programs and disciplines. By expanding the University's international footprint, graduates will become global change makers known for their capacity to innovate solutions to complex challenges and devise strategies to drive systemic change.
"The Institute for Global Engagement will equip students with a global mindset to meet the opportunities and challenges of an increasingly interconnected world," said Paula Myrick Short, senior vice president for academic affairs and provost. "Ambassador Pelletier will play a pivotal role in the future of the Institute and the University. He is a visionary and innovative leader with tremendous international experience and global expertise."
Pelletier was appointed as the United States Ambassador to the Republic of Madagascar and the Union of the Comoros on January 2, 2019, a position he held for more than two years. He is a career member of the Senior Foreign Service, class of Minister-Counselor, and served as an American diplomat from 1987 until his retirement last summer. From 2016-2019, Pelletier was dean of the School of Professional and Area Studies at the Foreign Service Institute, the U.S. government's premier foreign affairs training provider.
He has served at eight U.S. missions overseas and in senior leadership positions at the U.S. Department of State, including as deputy chief of mission at the U.S. embassy in New Delhi, India, and deputy assistant secretary in the Bureau of African Affairs. 

"Global engagement enriches everything we do. I am excited to join UH's great team to build on the University's strong commitment to international engagement and on the diversity of the University and city of Houston to help take UH global," said Pelletier. "We will work to equip our students with the tools to succeed and thrive on the world stage, while adding value to the community and workforce."
Pelletier is no stranger to leading ambitious global initiatives, responsible for launching the Dubai Regional Media Hub for the U.S. Department of State to improve engagement with the Arab world. Fluent in Arabic, French and English, he spent three years conducting interviews with journalists and building relationships with Arab leaders to ensure that the United States was part of ongoing international conversations.
The UH Institute for Global Engagement seeks to collaborate with industry partners that have international interests and operations, Pelletier said. Houston was recently ranked the most diverse city in America, according to a WalletHub study.
"By all measures, Houston is a great global city, set apart from many of our U.S. peers by our strong cultural and business ties around the world. In our increasingly interconnected world, it's more crucial than ever for students to have a deep understanding of these connections to not only drive personal success, but to advance Houston's prominence on the global stage," said Bob Harvey, president and CEO of the Greater Houston Partnership, the region's principal business organization focused on attracting investment and trade to Houston, building a strong workforce and advocating for sound public policy.
Pelletier earned a bachelor's degree in foreign service from Georgetown University, a Certificat d'Etudes Politiques from Institut d'Etudes Politiques in Paris, and a master's degree in international affairs from Columbia University. He is the recipient of 13 senior State Department awards, including a Presidential Meritorious Service Award and the Linguist of the Year.
The Institute for Global Engagement is the first institute to launch from funding from the Aspire Fund, a landmark $50 million gift to build upon the University's current strengths, support our ability to recruit renowned faculty and expand thought leadership around four complex, global issues that uniquely underpin the social, political and economic future of Houston and the world. The donor, who is remaining anonymous, launched the fund and the University's $100 Million Challenge to encourage matching investments from other donors.
---