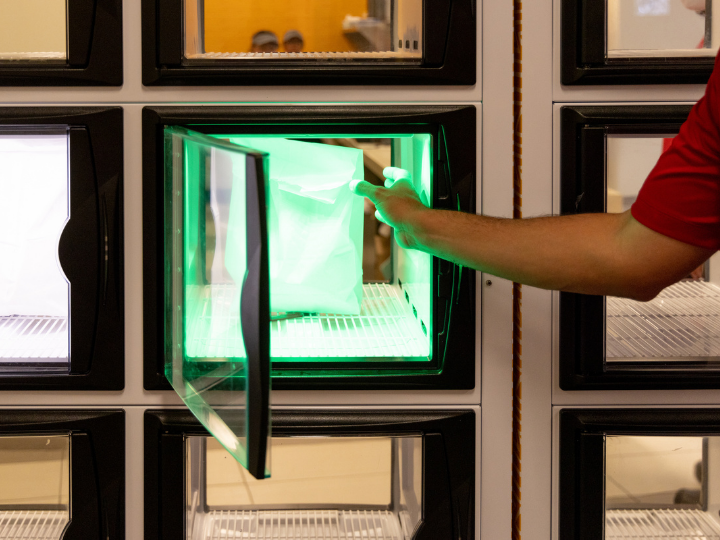 The University of Houston and its food service provider Chartwells Higher Education have partnered with Apex Order Pick Up Solutions to offer self-serve automated food lockers on campus, becoming the first institution of higher education in the state of Texas with the convenient and contactless food pick-up solution.
The more than 53,000 students, faculty and staff at UH can use the smart lockers with the new dining concept, Asado Burritos and Bowls located at Student Center South. Asado is a Chartwells-created dining brand offering customizable Tex-Mex such as burritos, low-carb bowls, classic sides and more.
Employees load orders from the back of the two-sided flow-thru Apex food lockers while busy customers pick up their orders from the front, ensuring fast and contactless pick-up. The innovative technology increases throughput and transactions, reduces crowds and lines while also providing real-time data and insights to enhance the overall dining experience.
"The pandemic has impacted the landscape of the on-campus dining experience and our approach to guest service should continue to acclimate," said Charles Pereira, vice president of operations for Chartwells HE at the University of Houston System.
With social distancing still a critical strategy to lessening the spread of COVID-19, the Apex food lockers also provide peace of mind, according to Pereira. Customers simply place their order through a mobile ordering app and receive an email with a unique code when their meal is ready for pickup.
"More people are discovering the convenience of online and mobile ordering as well as contactless service and we recognize that our dining operations must evolve with these changing preferences. We are always looking for ways to enhance the dining experience for our students, faculty and staff and these innovative food lockers do just that," said Emily Messa, UH associate vice president for administration.
The Apex food lockers at Asado opened on August 2, 2021 and a grand opening event is scheduled for August 24, when students return to campus. For more information on the lockers please visit dineoncampus.com/uh/food-lockers.
---