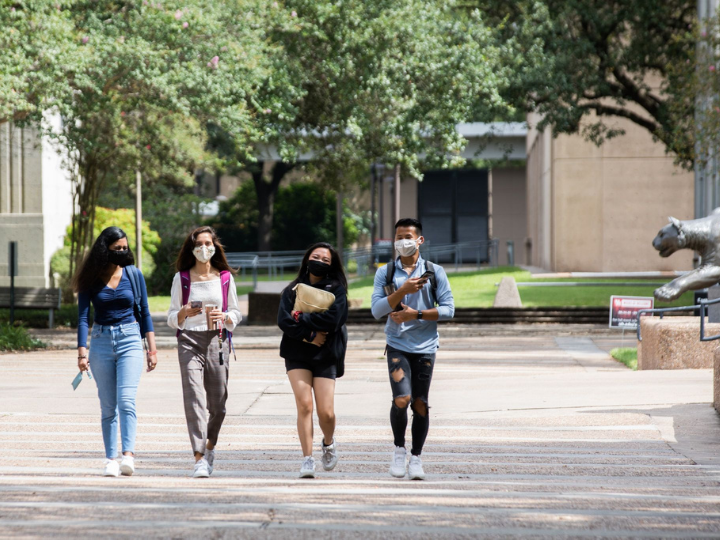 The University of Houston is experiencing record enrollment in fall 2020. The landmark enrollment is attributed to a steep increase in new master's level students. UH welcomed 1,752 new master's program students this fall, accounting for an increase of nearly 24.9% over fall 2019. Diversity of these students has also increased: enrollment of new Black master's level students increased 61.7%, multiracial students increased 110% and there was a 49.6% increase in new Hispanic students pursing a master's degree.
"Despite unprecedented circumstances, UH is continuing to meet our mission of making our academic programs accessible to academically strong students from a diversity of backgrounds," said Paula Myrick Short, UH senior vice president for academic affairs and provost. "The increase of enrollment in master's programs speaks to the relevancy of these programs to students, employers and the economy."
Preliminary 2020 fall enrollment provides the following snapshot:
UH's total preliminary enrollment for fall 2020 is 47,101 students, up 2.1% over fall 2019 (fall 2019 final enrollment: 46,148)
Masters programs saw the biggest increase in overall enrollment at 9.7% and a 24.9% jump in new students to the master's programs
Transfer student enrollment experienced minimal change (-0.2%)
The biggest impact of COVID-19 is noticeable in new undergraduate student enrollment:
The number of first-time college students (FTIC) decreased 7%.
"We are committed to providing an excellent experience, even during the most challenging times," said Richard Walker, vice president of student affairs and enrollment services. "Our enrollment trends indicate students transitioning to college for the first time may have more hesitation in committing to their original college plan during the pandemic, while transfer and master level students are using it as an opportunity to build upon their credentials."
The fall 2020 semester began Aug. 24. Course delivery options range from fully online to a hybrid of online and in-person classes. In-person instruction will end before the Thanksgiving break. Students will attend classes remotely for the remainder of the semester.
Learn more about University operations for fall 2020.
---