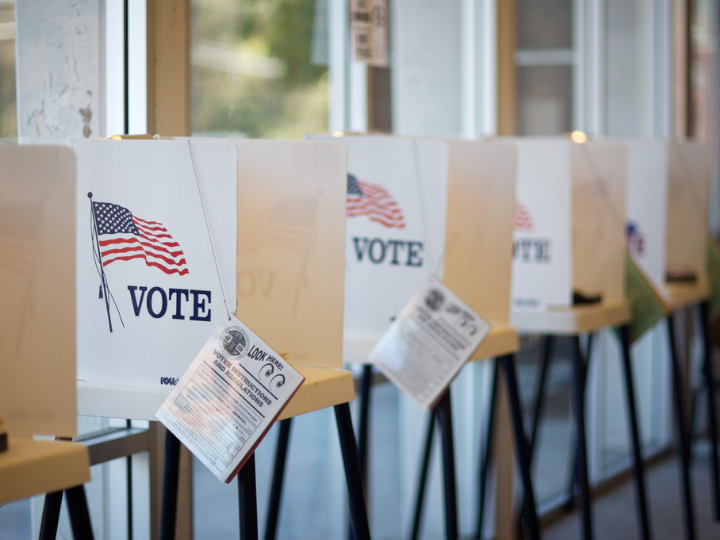 Just days ahead of Election Day, a new poll reports President Donald Trump and Democratic challenger Joe Biden are virtually tied among all registered voters in Texas, and the state's Latino voters overwhelmingly prefer Biden.
A poll released this week by the Center for Mexican American Studies at the University of Houston and Univision found that 57% of Latino voters who already have voted or who say they are certain to vote support Biden. Just 25% of Latino voters support Trump.  Among all registered voters, Trump held a narrow lead over Biden, 49% tp 46%, within the margin of error.
In other key states, the poll found Biden leading among Latino voters by 40 points in Arizona (66% vs. 26%), and by 20 points in Florida  (57% vs. 37%).  
"The Latino vote remains critically important and has arguably shifted once-safe Republican states such as Arizona and Texas into the tossup category," said Jason Casellas, associate professor of political science at UH. "Donald Trump continues to focus on tailored messages to targeted Latino communities primarily in Florida, hoping to keep that state in his column."
The poll and the Latino electorate will be the topic of a virtual panel discussion ,"The Night Before the Election: Understanding the Latino Vote," which is set for 6 p.m. Monday, Nov. 2. The event is free and open to the public. Register and find more information here.  
Latino voters will also have an impact further down the ballot. Incumbent U.S. Sen. John Cornyn enjoys a 5-point lead among all registered Texas voters over Democratic challenger MJ Hegar(45% vs. 40%). Hegar leads by 22 points among Latino voters (52% vs. 30%).
"Elections in Texas are becoming more competitive," said Jeronimo Cortina, associate professor of political science at UH and associate director of the Center for Mexican-American Studies (CMAS). "Democrats have an opportunity to win the Latino vote and flip some key state-level races, but their challenge is to motivate and mobilize Latino voters to turn out."
The CMAS-Univision Poll, conducted Oct. 17-25, found Latino voters are engaged, as 30% of Texas' Latino registered voters said they already had voted during the early voting period.
Latino voters illustrate the complicated impact the COVID-19 pandemic may have on the election.
"The Latino community has been hit hard by COVID-19, and Latinos are significantly more likely than other groups to say the Trump administration was slow to act and mismanaged the spread of the virus," said Brandon Rottinghaus, a UH political science professor who conducted the poll with Cortina and Casellas.
"The election is a referendum on health concerns, and Latinos are supporting Joe Biden because they see him as more likely to make health care affordable," Rottinghaus said. 
Cortina noted that despite enthusiasm among Latino voters, 70% report being concerned they might be exposed to COVID-19 by voting in person, which could depress Latino turnout.
To find more about the poll, see the CMAS website.
The Night Before the Election: Understanding the Latino Vote

Join a panel discussion on Texas Organizing Project Education Fund (TOP Ed Fund) report: "Real Talk: Understanding Texas Latino Voters Through Meaningful Conversation," conducted by Culture Concepts and CMAS's most recent pre-election poll results among Latino Registered Voters.

Who:
Cecilia Ballí, Principal and Founder of Culture Concepts, Cultural Anthropologist, Lead Researcher, Contributing Author
Jeronimo Cortina, Associate Director, Center for Mexican American Studies & Associate Professor of Political Science
Brandon Rottinghaus, Director, UH Election Lab and Professor of Political Science
Michelle Tremillo, Executive Director of Texas Organizing Project (TOP) 
When: Monday, Nov. 2, 2020, 6 p.m. Central Time  

Where: Register in advance at: https://uofh.zoom.us/meeting/register/tJwqcOqgqTMvE9PjknRYMrwRkc7QTYmQ5LG3
 
The event is free. After registering, you will receive a confirmation email containing information about joining the webinar.



Methodology
Univision News conducted a national poll and four state-wide polls in Arizona, Florida, Texas, and Pennsylvania. The polls were implemented from October 17 – 25, 2020. In the Latino national poll 2608 Latino registered voters completed the survey and contains a margin of error of +/- 2.21. The state polls contain an unadjusted MOE of 3.64 in PA and AZ, and 3.56 in FL and TX with total completes in TX=758, PA=723, AZ=725, FL=743. The state polls contain Latino oversamples of n = 401 for PA, and TX, and n = 402 for FL and AZ. The MOE for the Latino portion in each state is +/-4.89. The Latino National survey was commissioned through a partnership between Univision News and UnidosUS/SOMOS. The Arizona survey was commissioned through a partnership between Univision News and the Center for Latina/os and American Politics Research (CLAPR), at Arizona State University. The Texas survey was commissioned through a partnership between Univision News and the Center for Mexican American Studies at the University of Houston. Surveys were administered in English or Spanish at the discretion of the respondent and included a mix of cell phone, landline telephone, and online self-completed interviews. All respondents are confirmed to be registered to vote and that they consider themselves to be Hispanic or Latina/o. Respondents were randomly selected from the voter file and invitations for interviews were done by live caller or email. Invitations were bilingual at point of contact and allowed respondents to complete the interview in their language of choice. The survey was overseen by Dr. Sergio Garcia-Rios, director of polling for Univision, and administered in collaboration by Latino Decisions and North Star Opinion Research.
---