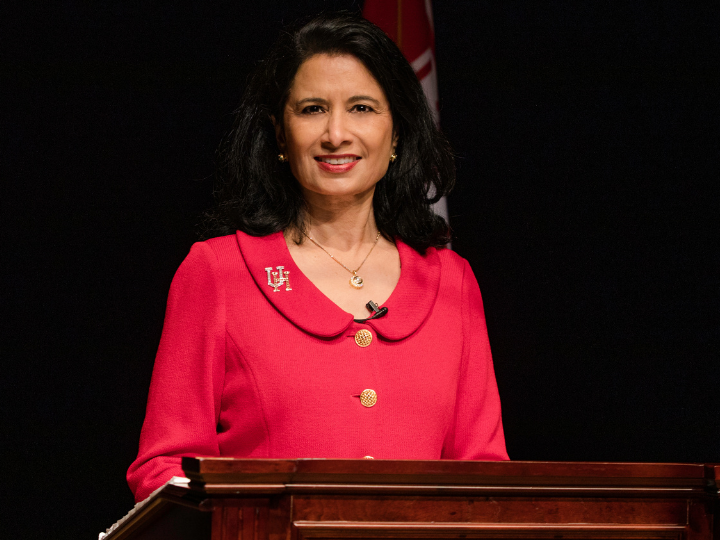 Eight years, nearly 200,000 donors and an astounding $1.2 billion for scholarships, professorships, facilities and programs — just a few of the highlights of the University of Houston System's transformational fundraising campaign, 'Here, We Go,' which drew to a close Aug. 31.
The campaign raised $1,235,427,334, far surpassing its $1 billion goal while opening opportunities for thousands and strengthening Houston's future workforce. The final tally was announced by UH System Chancellor and UH President Renu Khator during her 12th annual fall address on Oct. 28., where she thanked donors and volunteer campaign co-chairs Tilman J. Fertitta ('78), Beth Madison ('72), John L. Nau III and Marvin E. Odum III (M.B.A. '95).
"You inspired us to dream big, challenged us to be relevant and forced us to stay focused.  You led us from all directions, often making calls for us and introducing us to people who cared about Houston and our role in Houston's future," said Khator.
The campaign, which surpassed the $1 billion milestone in 2019, 18 months ahead of schedule, was designed to strategically transform UH System universities with priorities to support student scholarships and fellowships, build state-of-the-art facilities, attract and retain top faculty, advance academic programs, workforce training and research that fuel a healthy Houston economy, and build a nationally relevant athletics program.
More than 187,000 donors, including 133,000 new donors contributed to the campaign, highlighting the pride felt by alumni and friends. Donors came from all 50 states and 46 countries.
The unprecedented success of the institution's most aggressive capital campaign in its 93-year history – and first in nearly three decades – fueled significant advancements at the four System institutions, including 29 new or renovated facilities. Across the UH campus, 12 additional research centers and institutes have launched, churning out groundbreaking and entrepreneurial ideas and solutions. Nearly $216 million was raised for new scholarships and fellowships, opening countless doors for students. And 55 endowed chairs and professorships were created, sparking innovative research and world-changing discoveries.
The 'Here, We Go" campaign began quietly in 2012 and launched publicly in Jan. 2017, before concluding on Aug. 31, 2020.
"We named this campaign "Here, We Go," because the University System is on the move, going places and poised to reach new heights every year," said Eloise Brice, vice chancellor for university advancement, UH System. "It takes all of us – our broad alumni base, our incredibly generous donor family and the city of Houston – to create this level of success and momentum. The campaign has taken us to a whole new level. Here, we go Houston. Look out world."
Gift Highlights:
$50 million gift from an anonymous donor is the campaign's single largest contribution to hire distinguished faculty and establish four new institutes in the areas of energy, infrastructure, health care innovation and global engagement. Now called "The $100 Million Challenge," the pledge created a matching endowment program to establish endowed chairs and professorships and is designed to inspire investments from other donors, making its total impact as much as $100 million.
$20 million from Tilman J. Fertitta for renovation and construction of the Fertitta Center, a 7,100-seat multi-purpose arena that is home to the Houston Cougars men's and women's basketball teams and the women's volleyball team.
$20 million from the John P. McGovern Foundation benefitting arts students and faculty. The Kathrine G. McGovern College of the Arts was named in honor of the gift.
$17 million from Andy and Andrea Diamond to create the Diamond Family Scholars program which offers financial, academic and mentoring support for students aging out of the foster care system.
$16 million from the John M. O'Quinn Foundation to support the UH Law Center and construction of its new state-of-the-art building, the John M. O'Quinn Law Building.
$15 million thanks to Humana Inc. to launch the Humana Integrated Health System Sciences Institute and help defray start-up and operational costs for the UH College of Medicine, as well as fund endowed chairs at several UH colleges.
$13 million from the Cyvia and Melvyn Wolff Family Foundation to the nation's No. 1 undergraduate entrepreneurship program at the C.T. Bauer College of Business with a total expected impact of $15 million with matching gift.
$10 million from Hewlett Packard Enterprise to advance data science research and create the Hewlett Packard Data Science Institute.
The entire tuition for the UH College of Medicine inaugural class was paid with an anonymous $3 million gift.
The Durga D. and Sushila Agrawal Engineering Research Building allows innovative programs and new laboratory and classroom facilities and recruitment of some of the world's greatest engineering minds as students and faculty.
A legacy gift established the William A. Brookshire Department of Chemical & Biomolecular Engineering; including two endowed chairs and four professorships, provides graduate student fellowships and invests in department research initiatives.
The University of Houston-Downtown received its largest-ever donation—$10 million from Houston businesswoman Marilyn Davies to the UHD business school to better prepare the workforce.
The University of Houston-Victoria received 65 acres of land from the Bennett-Wood Family, the largest donation ever made in support of UHV athletics.
"The tremendous impact of this historic campaign is being felt not just across UH System institutions, but echoes throughout the entire region. The work accomplished in these new institutes, centers and facilities is transforming society in the areas of health care, energy, business, data analytics and so many more," said Tilman Fertitta, volunteer campaign co-chair and chairman of the UH System Board of Regents. "It was all made possible by the generosity of our donors and their belief in our mission."
Two years ago, the University of Houston began a new tradition – UH Giving Day – to celebrate the University's birthday on March 7 each year. In 2020, 6,000 donors stepped forward to give $11 million to UH Giving Day. Faculty and staff throughout the UH System gave $19.7 million during the campaign.
'Here, We Go' Campaign By-The-Numbers
Total raised: $1,235,427,334
Number of donors: 187,464
Number of new donors: 133,625
Breakdown of funds by donor type:
Individuals: $599,441,014 (48%)
Corporations: $380,510,819 (31%)
Foundations: $255,475,501 (21%)
Endowments created: 728
Endowed chairs and professorships: 55
Scholarships and fellowships: $215,863,435
New or renovated facilities: 29
Centers and Institutes created: 12
Donors came from all 50 states and 46 countries
---