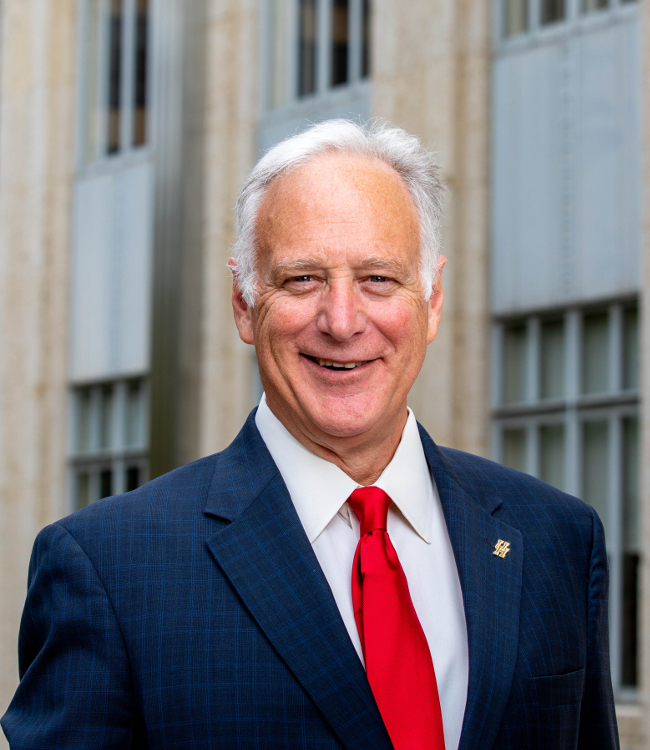 Texas Sen. Kirk Watson has been named founding dean of the University of Houston Hobby School of Public Affairs.
Watson said he was drawn to the job for the "extraordinary opportunity" to shape the study of public policy at a program focused on practical skills and data-driven research in a city well suited to be a living laboratory for addressing critical issues affecting the state.
"This is a chance to build a world-class public affairs and policy school essentially from the ground up," Watson said. "It is transformative work at a creative and ambitious university, located in one of the country's largest and most diverse cities."
First elected to the Texas Senate in 2006, Watson has been reelected four times and was chosen by his colleagues as president pro tempore for the 86th Legislative session in 2019.  Today Watson informed Gov. Greg Abbott that he will resign as Texas state senator for Senate District 14 effective midnight, April 30, 2020.
The Hobby School, named in honor of former Texas Lt. Gov. Bill Hobby, was originally founded as the Hobby Center for Public Policy at UH in 1981. The Texas Higher Education Coordinating Board granted it approval as a stand-alone academic entity within the University in 2016. The school has been at the forefront of research and polling related to key issues for Houston and Texas, ranging from electoral politics to school finance and redistricting. Its internship programs send students to work with elected officials in Houston, Austin and Washington D.C.
Under Watson, the school is ready to take the next step to become one of the nation's premiere public affairs schools.
UH President Renu Khator said Watson brings a deep background in civic and legislative engagement to the role of dean.
"Kirk Watson has participated in public policy from many vantage points," Khator said. "That experience gives him a broad perspective on how public policy is made and how it can be applied in an academic setting to forge practical solutions to many of the greatest challenges our state faces today. He is an excellent choice to be the Hobby School of Public Affairs' first dean."
Paul Hobby, the son of Lt. Gov. Hobby, said Watson's approach to policy mirrors that of his father.
"Bill Hobby's legacy is intensely practical – how things actually get done was his niche in public policy," Paul Hobby said. "We are thrilled that Kirk Watson, whose career in public service is described by decency, integrity and practical accomplishment, will be the founding dean of the Hobby School of Public Affairs. Who better to teach the art and science of civic problem-solving than a current practitioner?"
Watson noted that he has loved serving the community both in Austin City Hall and in the Texas Legislature, and he views this new endeavor as a continuation of that service.
"Only a unique opportunity to serve this state — and a compelling platform for that service — would cause me to leave," he said. "It is thrilling to get to do it in Houston, with its far-reaching roles in health care, energy, education, culture and other areas central to life in Texas and beyond."
The Hobby School includes faculty drawn from the fields of political science, economics, political philosophy and psychology, among others. It offers a master of public policy degree, as well as several dual graduate degrees through partnerships with other academic colleges at UH, and its public polling and other research has been nationally recognized.
Watson pledged to build upon that foundation.
"The Hobby School of Public Affairs will help define and will be a leader in 21st century public policy education," he said. "It will significantly influence and shape public affairs discussions, activities and outcomes at every level of government and across the private and non-profit sectors."
Houston Mayor Sylvester Turner, who served in the Legislature with Watson until resigning to run for the city's top post, predicted that Watson will build upon the school's foundation of civic-minded research on key topics, from demographics to the after-effects of Hurricane Harvey.
 "Kirk brings a wealth of experience across the public policy spectrum, from municipal to regulatory and legal," Turner said. "Kirk's ability to work for consensus on critical issues such as finance, education, transportation or healthcare is a perfect fit for Houston and the diverse challenges our region faces. The University of Houston will serve as a natural proving ground for finding solutions."
About Kirk P. Watson
Elected to the Texas Senate in 2006 with 80% of the vote. He has been reelected four times.
Appointed vice chairman of the Senate Committee on Nominations and sat on committees overseeing finance, education and higher education. Elected by his colleagues to serve as Senate President Pro Tempore for the 86th Legislation Session in 2019.
Served as mayor of Austin from 1997 until 2001.
Served as chair of the Texas Air Control Board, one of the predecessors to the Texas Commission on Environmental Quality, from 1991-93.
Earned a bachelor's degree from Baylor University and a law degree from Baylor Law School, where he graduated first in his class. Currently a partner in a national law firm.
For Watson's full bio click here.
---