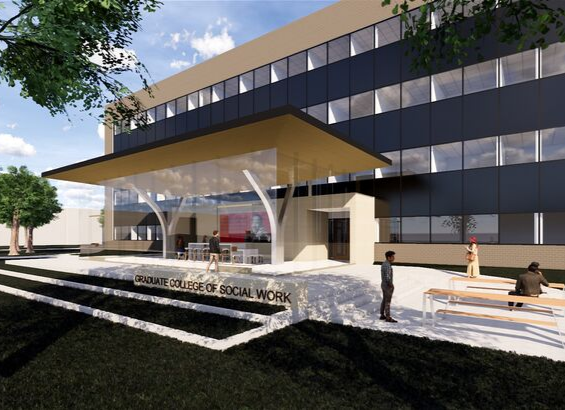 The University of Houston Graduate College of Social Work is breaking ground on a $3.9 million building improvement project. The entire first floor of the four-story GCSW building will be renovated to create modern learning environments that encourage collaboration between researchers, students and community partners. In addition, the project includes a new lobby and entry pavilion to enhance the college's visibility on campus. The project is funded in part by donations from the Mehta Family Foundation, Houston Endowment, Hamill Foundation, Frees Foundation and Creuzot family.
The future lobby will include lounge and table seating centered around a display wall and interactive installations that reflect the college's mission to achieve sustainable social, racial, economic and political justice for all. Classroom configurations, acoustics and technology will be improved to encourage active learning.
The new Mehta Family Foundation Community Pavilion will add modern style and character to the current nondescript building façade, highlighting the new main entrance to the building and providing students space to gather and study. The project is expected to be completed by spring 2021.
"Being part of a learning environment where you feel valued and supported is critical to student success, and the physical space in which our students learn is an important component of that," said Alan Dettlaff, dean of the Graduate College of Social Work.  "I'm incredibly grateful to our generous donors for recognizing our students' value and trusting us to create the learning environment they deserve."
Originally built in 1978, the current GCSW building lacks adequate common space and emerging technology. Its outdated classrooms don't support the innovative research projects happening at the college, said Dettlaff. Despite these challenges, the college continues to thrive, now ranked among the top 25 social work graduate programs in the country by U.S. News and World Report.  Over the past five years, the GCSW has grown from approximately 350 students in the Master of Social Work program to more than 500 today.
"Our students are the next generation of change-makers and they deserve a learning environment that is both beautiful and equipped with the technology required for 21st-century classrooms in all disciplines," added Dettlaff.
What: GCSW Mehta Family Foundation Community Pavilion and First Floor Renovation Groundbreaking
Who: Renu Khator, UH president; Paula Myrick Short, UH senior vice president for academic affairs and provost; Alan Dettlaff, GCSW dean
When: Thursday, October 3, 4:30-6:00 p.m.
Where: Graduate College of Social Work building, 3511 Cullen Blvd., Houston, TX 77204 (map)
---