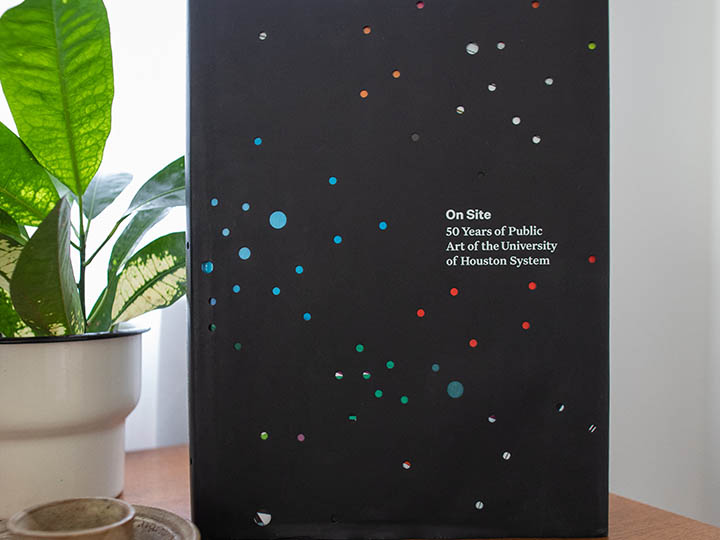 Art lovers can now experience Public Art of the University of Houston System like never before with the release of a first-ever monograph commemorating the collection's 50th anniversary.
"On Site: 50 Years of Public Art of the University of Houston System" honors the magnitude and diversity of the nearly 700-piece collection and highlights 40 of the most notable works. Thirty essays written by accomplished artists, scholars, curators — including Alison de Lima Greene, Isabel Brown Wilson Curator of Modern & Contemporary Art at the Museum of Fine Arts, Houston and María C. Gaztambide, Public Art UHS director and chief curator — capture unique insights about the collection's history.
UH System Chancellor Renu Khator, who emphasizes the importance of putting the "public" back in public art, states in the book's foreword: "The arts are crucial to our universities, to our communities and to our country. If the University of Houston System's other endeavors supply the brains, the brawn, the vitality and well-being of our collective body, then the arts surely provide the spirit."
Edited by Gaztambide, "On Site" guides the reader through the evolution of the public art program which began to take shape in 1966. Then UH President Philip Hoffman and the Board of Regents proposed a policy to set aside 1% of new building construction costs to purchase works of art. In 1969, the Texas Legislature formally approved the policy which paved the way for UH to become the first state university to initiate a public art program.
Today, the collection's works are on view at the four UH System institutions: UH, University of Houston-Downtown, University of Houston-Clear Lake and University of Houston-Victoria as well as UH's instructional site in Sugar Land. The list of esteemed artists represented in the collection includes Carlos Cruz-Diez, Trenton Doyle Hancock, Dorothy Hood, Margo Sawyer, Alyson Shotz, Frank Stella and Andy Warhol. The book gives broader audiences access to the artworks on view to the public every day.
"[Public Art UHS]'s collection does much more than enhance mundane comings and goings across the UH campuses. Inasmuch as it fulfills practical, aesthetic or even experiential prerogatives, art also increases the social consequence of the multiple sites it serves to anchor across these communities, reflecting a unity with an indispensable human content," Gaztambide stated in the book, while laying out ambitious plans for the program's future.
"On Site: 50 Years of Public Art of the University of Houston System" is published by Scala Arts & Heritage Publishers Ltd. Click here for more information about the book, including where to purchase it.
---