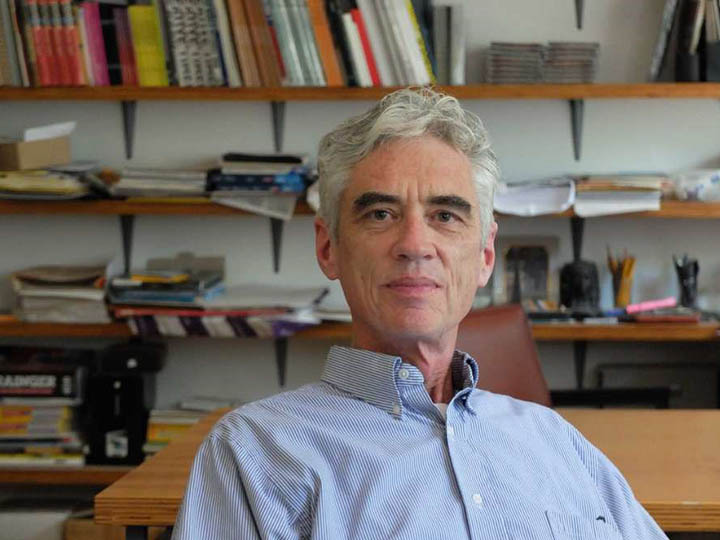 Michael Galbreth, one half of Houston's conceptual art duo The Art Guys, passed away over the weekend at the age of 63. Galbreth and his artistic partner Jack Massing – both University of Houston alumni – are the masterminds behind "The Statue of Four Lies," a prominent piece in the Public Art of the University of Houston System collection.
"The Statue of Four Lies" was installed at the University of Houston in Sept. 2010 outside Cougar Village I near Lynn Eusan Park. The artwork features two bronze statues of Galbreth and Massing in suits and ties. The figures stand in welcoming poses near commemorative plaques peppered with inaccuracies and lies. A bronze briefcase, toothbrush, book and wrench accompany the piece. There's also a codex that goes with the statues in the UH Special Collections inside M.D. Anderson Library.
"The Art Guys poked fun at a variety of art-world conventions in their work; and wit and deception were the elements that held it all together.  Just recently, as we discussed new signage for 'The Statue of Four Lies,' Michael Galbreth suggested to us that it should only include the Latin phrase ars est celara artem [true art conceals the means by which it is achieved]. Not only does the saying aptly summarize the concept behind the sculpture, it also perfectly encapsulated his worldview and impetus for his art production," said María C. Gaztambide, Public Art UHS director and chief curator.  
The Art Guys began working together in 1983 as UH students and spent the next three decades collaborating on works that expanded and challenged the dialog and boundaries of art. Their work has been included in more than 150 exhibitions in museums, galleries and public spaces throughout the United States and in other parts of the world including Europe and China.
In addition to "The Statue of Four Lies" at UH, The Art Guys' visual and performative works have been prominently featured across the UH System in multiple exhibitions and projects. Over the years, these have included "If The Stones Could Speak" at the O'Kane Gallery at the University of Houston-Downtown (1997); "Area Show" at UH's Blaffer Art Museum (1992); and "Nothing To It (an evening of itty bitty witty ditties)" (2008) at the Cynthia Woods Mitchell Center for the Arts. Galbreth and Massing have also held lectures on the UH campus.
"It was a great pleasure knowing Michael. I admired his keen insight, his constant questioning of conventions, his certainty and doubt, his charm and irreverent sense of humor," said Michael Guidry, Public Art UHS curator. "He was a brilliant artist, generous in so many ways and he will be truly missed."
---