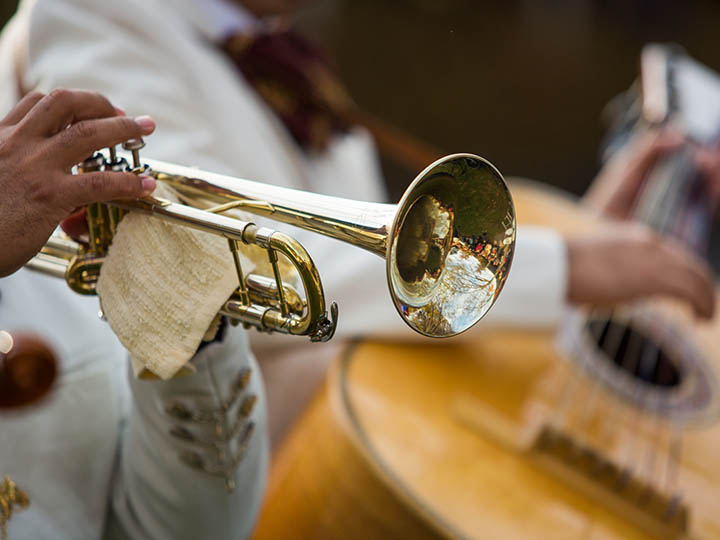 The University of Houston campus will soon be filled with the sweet sounds of traditional mariachi music when the new mariachi ensemble debuts this fall.  Mariachi Pumas­ – with puma being Spanish for cougar, is open students of all disciplines and all levels of musical experience.
Mariachi music is a symbol of Mexican culture that originated in the mid-1800s in the Mexican state of Jalisco. A mariachi group typically consists of at least two violins, two trumpets, one Spanish guitar, one vihuela – a high pitched five-string guitar – and a guitarrón, which is a small acoustic bass. Clad in festive charro suits, mariachi bands are known to sing traditional favorites such as "Las Mañanitas," "Jarabe Tapatio" and "El Rey."
The ensemble will reside in the Moores School of Music in the Kathrine G. McGovern College of the Arts, which has already had international success with its existing ensembles, including the Concert Chorale, AURA Contemporary Ensemble, Jazz Ensemble and Symphony Orchestra.
"I'm thrilled that we are filling this critical gap in our musical offerings and bringing our arts programs up to date with options that reflect our students and our city," said Andrew Davis, dean of the Kathrine G. McGovern College of the Arts.
The Mariachi Pumas will be led by Jose Longoria, a professional mariachi musician with years of experience teaching mariachi and developing programs in the Houston Independent School District. Longoria also serves as director of Mariachi Imperial De America, an award-winning, international touring group based in Houston.
"The University of Houston is such a diverse campus and I feel that the mariachi program will give all students an opportunity to experience one of Mexico's greatest music traditions, which in turn help represent one of the many cultures here at UH," said Longoria, an alumnus of the University of Houston-Downtown.
"The University of Houston is an Hispanic-Serving Institution, and having a Mariachi ensemble at UH presents an ideal opportunity to showcase our diversity and our talented students as well as their culture to Houston and beyond," said Paula Short, UH senior vice president for Academic Affairs and Provost.
In addition to playing at events on the UH campus, the Mariachi Pumas will perform in metro Houston at special events. Revenue from those engagements will support travel to conferences, workshops and other activities.
"We at the University of Houston should support our new mariachi program, the first of its kind, with the fervor, energy and enthusiasm it very much deserves," said Paula M. Mendoza, University of Houston System Board of Regents. "The Mariachi Program will play an enormous role in not only uniting Latinos on campus — both students and faculty — but will also unite our UH students and campus with the city and beyond as they will have the ability to perform across the country and internationally."
---