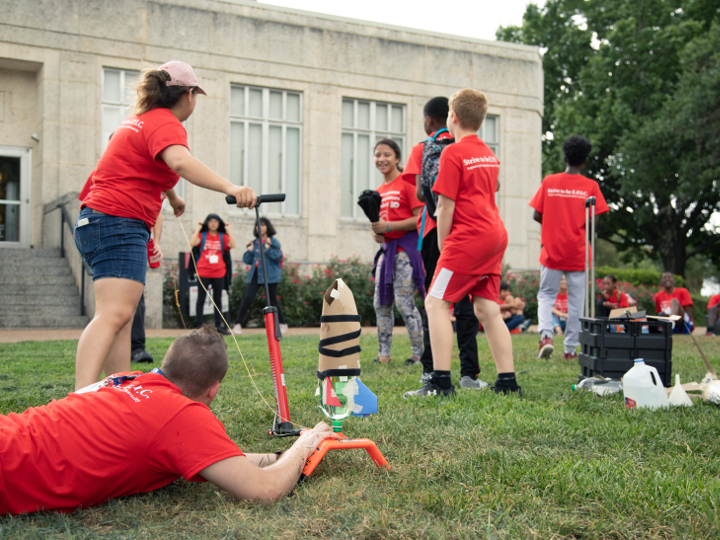 Inspiration isn't limited to adults working in a laboratory or home office. Students at the Chiyoda Young Innovators' STEM Academy are spending the two-week program learning how to turn an idea into a product.
The camp, sponsored by Chiyoda International Corporation and held at the University of Houston, is designed to interest students entering 7th, 8th and 9th grades in engineering, design and innovation as they take an idea from concept to an invention. The leadership team includes faculty, alumni and Noyce scholars from teachHOUSTON, the STEM teacher preparation program offered by the College of Natural Sciences and Mathematics.
Mariam Manuel, instructional assistant professor and STEM master teacher with teachHOUSTON, said students are provided with the opportunity to build a prototype that helps a solve a problem in their lives or their communities. Last summer, several students developed prototypes to assist with issues related to flooding from Hurricane Harvey.
"Our team guides students as they come up with their ideas for inventions, collect data through interviews and develop a customer needs matrix before they begin build on their prototypes," Manuel said. "We also engage them in various STEM challenges throughout the academy."
UH faculty members, along with leaders from the UH Division of Research, STEM industry leaders from Chiyoda Engineering and technology specialists from the BakerRipley Fab Lab offer expert feedback as the students work on their prototypes. Manuel said high-tech tools such as 3D printers from the maker space at BakerRipley Fab Lab are also brought on campus for the students to use during their builds.  
WHAT:               Two week camp for students grades 7-9, designed to spur innovation and
                         culminating in the Summer Young Inventors' Showcase, hosted by Inventors
                         Association of America-Houston chapter
WHEN:               Best times for media are 1-3 p.m. Wednesday-Friday, July 17-19                         
WHERE:             University of Houston campus
MEDIA:               Contact Jeannie Kever, jekever@uh.edu, 713-743-0778
---