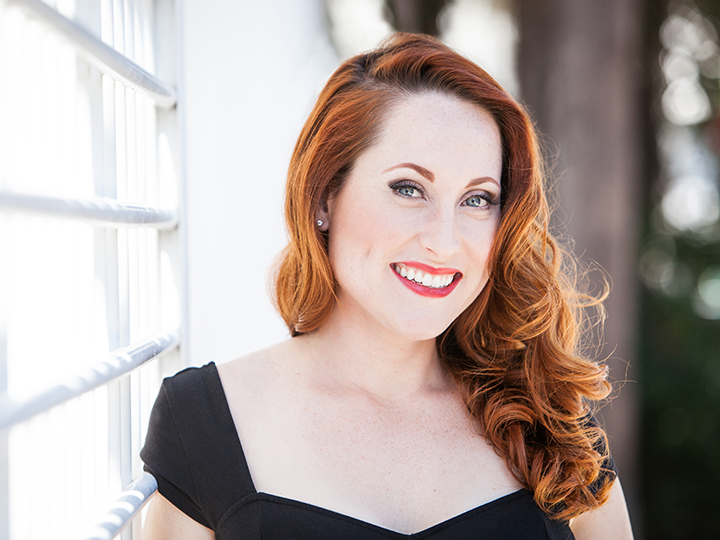 A UH alumna has been honored with one of the recording industry's most prestigious awards. Critics have called Jessica Jones' performance "astonishing," "thrilling" and "fabulous" but now the University of Houston Moores School of Music (MSM) graduate is a Grammy Award winner.
Jones, who graduated from the University of Houston with both master's and bachelor's degrees in vocal performance, scored music gold for "Best Opera Recording" for her portrayal of Chrisann Brennan, Steve Jobs' girlfriend and mother of his oldest child, in "The (R)evolution of Steve Jobs." It was Jones' first Grammy nomination and win.
"I never imagined that I would ever be nominated for a Grammy, let alone win one," Jones said. "My dream has been to sing. I have been lucky enough to pursue this passion and that I was part of something that received this honor feels like a dream come true."
The opera, composed by Mason Bates with librettist Mark Campbell, premiered in 2017 at the Santa Fe Opera in Santa Fe, New Mexico. The opera depicts milestones throughout Jobs' life, including founding Apple and creating the iPhone, and the cultural transformation that followed. In the "Best Opera Recording" classical music category, the Grammy award goes to the conductor, album producer(s) and principal soloists. Jones and the rest of the winners in classical categories were announced Sunday (Feb. 10) during a ceremony held before the prime-time telecast at Microsoft Theater in Los Angeles.
Jones, who is originally from Idaho, comes from a musical family. She landed her first opera role at age 15 in "The Marriage of Figaro." While at UH, Jones began her studies with mezzo-soprano Katherine Ciesinski and went on to complete her degrees with soprano Cynthia Clayton. She performed in contemporary operas at UH including "The Ghost of Versailles," "The Turn of the Screw" and "The Grapes of Wrath." Jones also spent a couple of seasons with the Opera in the Heights.
"My education at UH was paramount to my success," said Jones. "I worked with so many wonderful teachers at the Moores School of Music in many departments. They are like my family and I am so grateful for the education I received."
Jones has performed all over the country. She currently lives in Miami, where she will perform with the Florida Grand Opera through May.
---