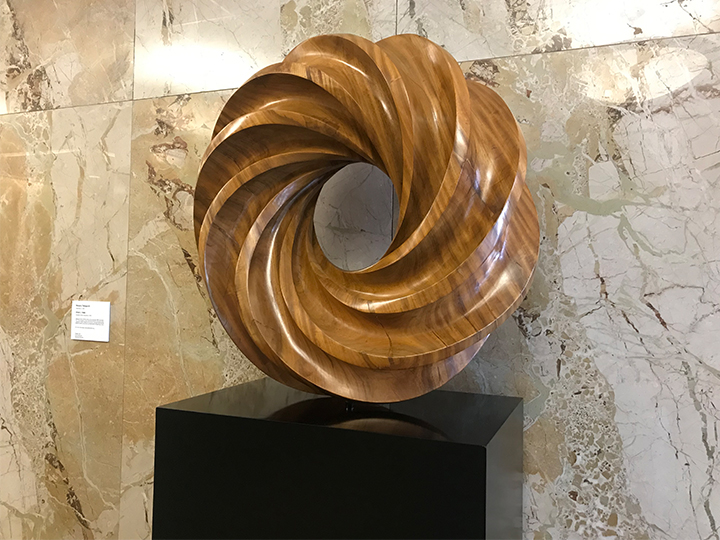 "Orbit I" (1968), one of the first artworks purchased for the Public Art of the University of Houston System collection nearly 50 years ago, has made a welcome return to the UH campus. The recently restored and refreshed Camphor wood sculpture has found a new home in the lobby of the Ezekiel Cullen Building.
The large-scale piece by Japanese-born artist Masaru Takiguchi was originally installed in 1970 in the lobby of the Science & Research 1 building. It was removed several years ago when the SR1 building underwent interior renovations. The piece was placed in a storage facility until it could be properly conserved. Over time, cracks known in the art conservation world as "checks," formed in the smoothly carved wood from shrinkage due to being in a dry environment. Art conservator Robert Marshall and his team spent two months restoring the  historic piece.
"We used different mineral solvents to clean off old wax, and we found a lot of overpainting and repairs made in the past to cover up cracks," Marshall explained. "After it was cleaned and the overpainting was removed, we took the areas filled with wax and retouched them to hide them better."
Now the piece has a fresh oil finish, a French polish of shellac and a coat of wax. The only maintenance it will need is an occasional wax and dusting said Marshall.
Takiguchi was a visiting artist and lecturer in the sculpture department at UH in 1968, 1970 and 1973. During his time in Houston, he created three other sculptures: "Orbit II," which is also made out of Camphor wood and is located in Krost Hall at the UH Law Center; "Embracing" (1977) and "The Ocean" (1972-74) ­– both marble sculptures that can be found in the Bayou Building at the University of Houston-Clear Lake.
"Orbit I's" homecoming is timely. This year, Public Art UHS is celebrating its 50th anniversary. In 1969, UH became the first university in Texas to formally adopt a percent for art program, a policy that dedicates 1% of future construction costs to acquiring works of art. There are nearly 700 pieces in the collection which spans across all four UH System university campuses: UH, UHCL, University of Houston-Downtown and University of Houston-Victoria. Public art is also on view at UH's instructional site UH at Sugar Land. Visit the Public Art UHS website to learn more about the collection and the new Temporary Public Art program.
---