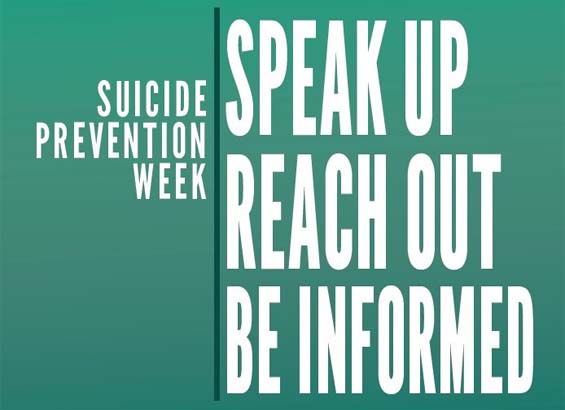 Suicide is a public health crisis twice as prevalent as homicide and the second leading cause of death among college-age adults in America. At the University of Houston, the campus community is encouraged to "Speak Up, Reach Out, Be Informed" as part of Suicide Prevention Week, Sept. 10 – 14.
"Research has shown that persons who ultimately attempt suicide often provide numerous direct or indirect clues as to their intentions," said Patrick Lukingbeal, director of UH Wellness and certified Mental Health First Aid instructor. "It is important to train the UH community to recognize these verbal, behavioral or situational clues so they can take the necessary steps to get the person professional help." 
UH Counseling and Psychological Services (CAPS) will offer QPR Suicide Prevention Training for faculty, staff and students every week beginning Sept. 11 through Dec. 6. QPR — "Question, Persuade, Refer" — is a nationally recognized program designed to educate persons to recognize and respond to the signs of suicidal thinking or behavior. It teaches participants how to ask the suicide question, persuade the person to contact appropriate assistance and identify referral options. Once trained, they act as gatekeepers for the campus community, informed and ready to intervene on behalf of individuals considering suicide. 
"The gatekeepers increase the CAPS team by broadening outreach and awareness," said Norma Ngo, licensed clinical psychologist and director of CAPS. "People struggling with mental health issues need to know there is hope and help. We can provide that."
Additionally, UH Wellness offers Mental Health First Aid training to all interested students, faculty and staff. It is mandatory for all UH resident advisers. Mental Health First Aid is a public education program that introduces participants to risk factors and warning signs of mental illnesses, builds understanding of their impact and overviews common supports. The eight-hour course uses role-playing and simulations to demonstrate how to offer initial help in a mental health crisis and connect people to the appropriate professional, peer, social and self-help care. The program also teaches the common risk factors and warning signs of specific types of illnesses, like anxiety, depression, substance use, bipolar disorder, eating disorders and schizophrenia. 
"There's a strong need for this information and training to bring awareness to topics that we, as a society, don't normally talk about," said Lukingbeal. "We can take away the stigma that goes along with mental illness and ultimately better understand how to respond and get people in need connected to help."
The programs are not designed for trainees to take on the role of professionals — they do not diagnose or provide any counseling or therapy. Instead, the programs offer concrete tools and answers key questions, like "what do I do?" and "where can someone find help?"
For a complete list of Suicide Prevention Week events, click here.
---