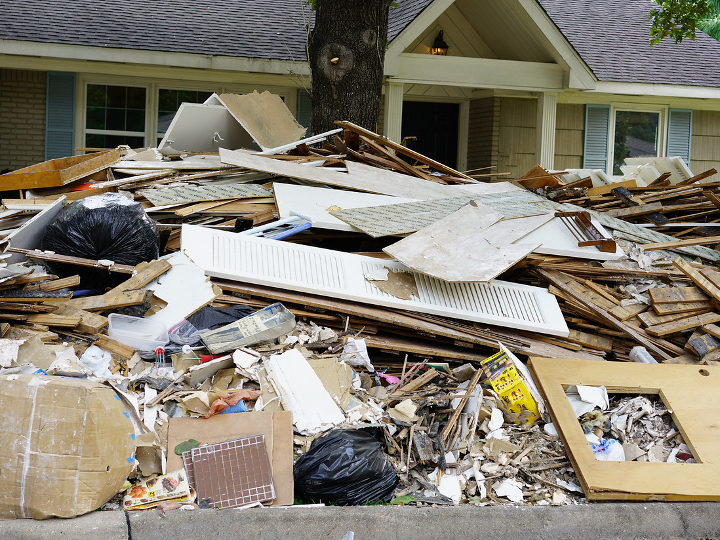 The latest results from an ongoing survey of Houston-area residents finds a mixed picture of recovery after Hurricane Harvey – most people whose homes were so badly damaged they had to leave are back home or in a new house or apartment, but slightly more than 8 percent remain in temporary housing.
Almost one in four residents reported health problems related to the storm, although fewer than 7 percent rated those problems as "very serious" or "extremely serious."
The survey from the Hobby School of Public Affairs also shows high support for increased government spending for both flood mitigation and more general environmental and social policies, including regulating greenhouse gas emissions. Younger residents showed especially high support for increasing governmental involvement.
The results, released Wednesday, come from the second round of a multi-year effort designed to provide scientifically-valid data about the recovery from Harvey in Harris, Fort Bend, Brazoria and Montgomery counties.
Jim Granato, executive director of the Hobby School, said the survey suggests the recovery is ongoing.
"But that recovery is uneven," he said. "This survey tells us that while most people who sustained losses in Harvey are returning to some sort of 'normal,' others are at risk of being left behind. There are still people in temporary housing, and without adequate financial support, they may never catch up."
Among the findings:
One-third said their homes were damaged; 22 percent had to leave their homes because of Harvey. 67.5 percent of those are now back home; 24 percent said they moved to another house or apartment. 8.3 percent are still in temporary housing.
7 percent of respondents said they had received help from the Federal Emergency Management Agency. Of those, almost half said they received grants or loans to repair their homes.
7 percent received an insurance payment for damage to their home; 85 percent of those said the insurance covered all or a large portion of the needed repairs.
The survey found high support for restrictions on building in flood plains, at 88.1 percent, and new building codes requiring homes in flood-prone areas to be raised, at 87.2 percent. More than 79 percent support building a third reservoir.
A majority also support raising property taxes to pay for infrastructure improvements.
People also supported government projects not directly related to flooding, including 69.4 percent who favor government spending to promote economic growth. Just more than 77 percent support raising the minimum wage, and 75.7 percent favor government funding to develop renewable energy.
Full results are available here.
Renée Cross, senior director of the Hobby School, said it makes sense to see increased support for governmental intervention so soon after a natural disaster, even for things that aren't related to flooding.
"Will this change in attitudes endure? I suspect this support is more than just a reaction to Harvey," she said, noting that the region is becoming more diverse, racially, ethnically and politically. "It is likely that overall political attitudes will evolve."
Similarly, the survey found generational differences: Millennials were more likely than baby boomers and older residents to support higher taxes and raising the minimum wage, for example.
Pablo Pinto, director of the Center for Public Policy at the Hobby School, said the differences can't be explained solely by demographics, including that younger respondents are more likely to identify as Hispanic, to be renters and to have incomes below $50,000 a year.
Instead, he said, the split "probably reflects a true generational change in preferences, which could be a function of changing economic, social and cultural conditions affecting this generation," including the low wage growth and higher unemployment that followed the 2008 recession.
Additional researchers involved in the project include Man Chiu "Sunny" Wong, an economist at the Hobby School; Ching-Hsing Wang, Hobby School research fellow; and Hobby research associates Mark Jones and Bob Stein, both political science professors at Rice University.
The survey was conducted between June 25 and July 31, using both landline and cell phone numbers. It included people who participated in the initial survey and first-time respondents. The margin of error is +/- 3.4 percent.
---