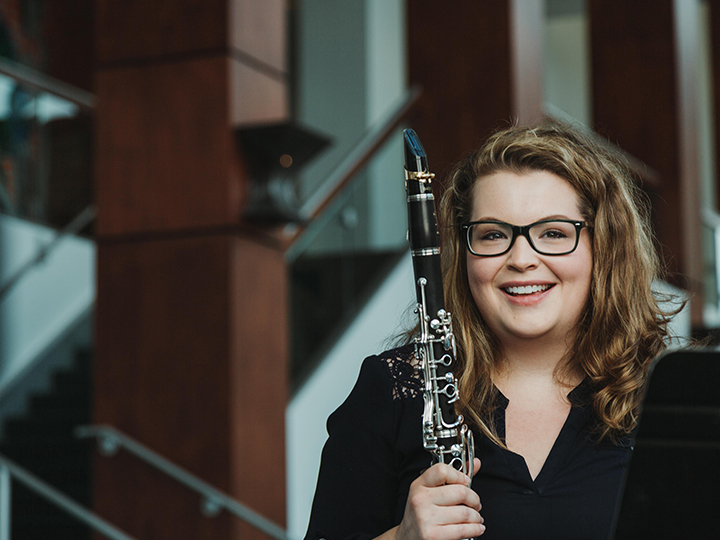 Elena Murphy cried when she got her first clarinet, but they weren't tears of joy.
"I originally wanted a saxophone or trumpet. Instead, my mom brought home a clarinet for me to play in church," she said. "Then I started learning, and it all worked out."
It worked out in a big way for the Maryland native. Today she's one of only three clarinet performance graduate students at the University of Houston Moores School of Music. Murphy will become an orchestra fellow for the first time during the Immanuel and Helen Olshan 2018 Texas Music Festival. The festival runs Tuesday, June 5 through Sunday, July 1 at the Moores Opera House and Cynthia Woods Mitchell Pavilion in The Woodlands.
Murphy will be the only UH clarinet player in the orchestra, joining dozens of bright, young musicians and renowned guest conductors from around the world. She credits her recent success to instructor Mark Nuccio who accepted her into his exclusive class just moments after her audition began.
"You could tell there was talent. I think Elena has a musical spontaneity that's hard to teach," explained Nuccio, who is one the top clarinetists in the country and mentor to countless students.
"I took a lesson from Mark and I just knew this was the right fit for me," Murphy added.
Like Murphy, Nuccio was a reluctant virtuoso. While both his parents played the clarinet — his dad was in the U.S. Air Force Academy Band — Nuccio did not accept his gift until college.
"In the beginning I practiced just 20 minutes a day. Then I started to practice many hours per day," he recalled. "I finally resigned myself to the fact that my natural talent was on the clarinet."
Nuccio turned that talent into a very successful career, currently as principal clarinetist with the Houston Symphony. Prior to his arrival in Houston, he spent 17 years with the New York Philharmonic. His music has also been featured on numerous movie soundtracks including "Failure To Launch", "The Last Holiday", "The Rookie" and more. 
You can see Nuccio play opening night of the festival in the faculty chamber music Perspectives Series at 7:30 p.m. on Tuesday, June 5 at Dudley Recital Hall. Murphy will perform throughout the festival. To see the schedule, along with information about guest artists, conductors and orchestra fellows, visit the TMF website.
---