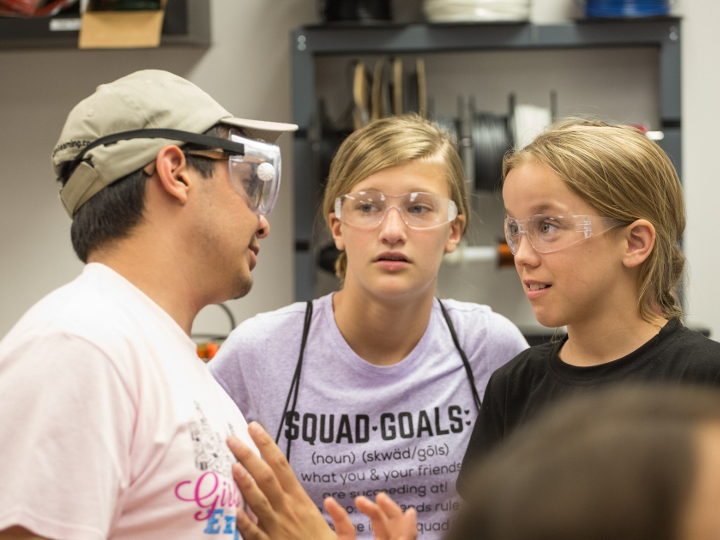 More than 1,000 girls in grades 4-8 will be on the University of Houston campus Saturday, March 24, for the 3rd annual "Girls Engineering the Future."
Faculty and students from the UH Cullen College of Engineering will lead the younger students in hands-on activities designed to introduce them to engineering.
Demand for the popular annual event has been so great that capacity was doubled for this year's activities, to 1,000 girls and their families. Registration is closed.
"Introducing girls to engineering early, creating opportunities for them to be successful in the field and fostering their success along the way is critical to the long-term outlook of the Cullen College of Engineering, the city of Houston and the engineering ranks at-large," said Joseph W. Tedesco, Elizabeth D. Rockwell Dean of the UH Cullen College of Engineering.
He noted that more than 30 percent of Cullen College students are women, compared with 20 percent nationwide.
WHAT:                    "Girls Engineering the Future," hands-on activities designed to introduce girls in
                                   grades 4-8 to engineering, guided by faculty and students from the UH Cullen College of
                                   Engineering
WHEN:                    1:30 p.m.-5 p.m. Saturday, March 24
WHERE:                 Cullen College of Engineering, Building No. 1. Map
MEDIA CONTACT:  Jeannie Kever, 713-743-0778, jekever@uh.edu
On-site media contacts for Saturday:    Inez Hutchinson 
                                                                    Cell: 713-828-5157
                                                                    Audrey Grayson
                                                                    Cell: 281-413-1876
---