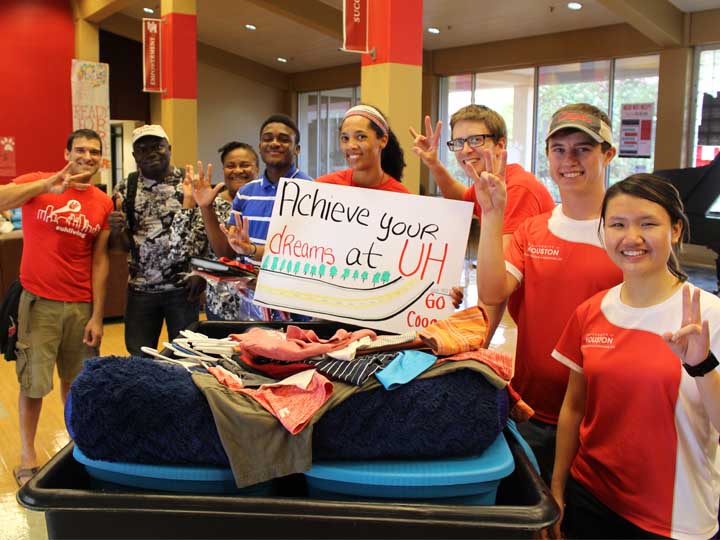 Closet organizer? Check. Surge protector? Check. Mattress pad? Check. With bags and bins packed to the brim, thousands of new and returning students will move into their residence halls on Thursday, Aug. 16 - Saturday, Aug. 18 at the University of Houston.  
Eager to tackle a new school year, nearly 5,700 Coogs will file into six residence halls; Cougar Village I, Cougar Village II, Moody Towers, Cougar Place, University Lofts and Bayou Oaks. The fall semester begins Monday, Aug. 20.
Nearly 1,000 volunteers decked out in "Cougar Red" – including the UH soccer and volleyball teams – will help students and their families unload vehicles and unpack belongings. And if mom or dad can't navigate that luggage through the elevator, maybe Renu Khator can! The UH president will lend a hand at Cougar Village II on Friday, Aug. 17 at 10:30 – 11:30 a.m. followed by head football coach Major Applewhite at 11:15 a.m.
Media interested in covering Cougar Move-In should coordinate with UH Media Relations in advance. Contact Chris Stipes, director of media relations, at 713-743-8186 or cdstipes@uh.edu.
What: Cougar Move-In at UH Residence Halls
Who: New and returning UH students, families and volunteers along with Renu Khator and Major Applewhite
Where: Cougar Village I, Cougar Village II, Moody Towers, Cougar Place, University Lofts and Bayou Oaks. (Map to Cougar Village II)
When: 8 a.m. – 5 p.m., Thursday, Aug. 16 - Saturday, Aug. 18
            Renu Khator, UH president: 10:30 a.m., Friday, Aug. 17
            Major Applewhite, UH head football coach: 11:15 a.m., Friday, Aug. 17
---