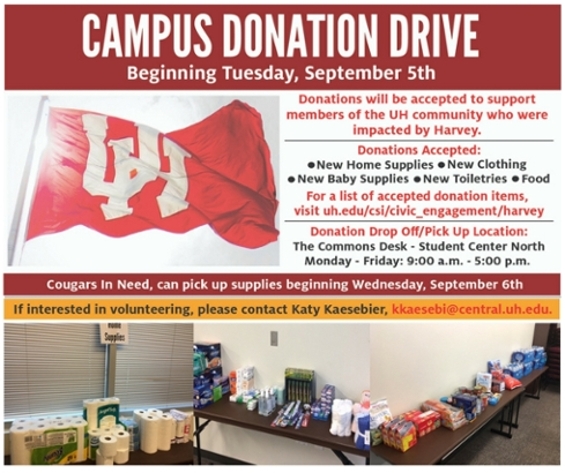 As campus life returns to normal after Hurricane Harvey, University of Houston students are finding time between classes to donate much needed supplies to fellow Cougars who are victims of the storm.
From now until Friday, September 15, the Center for Student Involvement is collecting supplies such as blankets and pillows, towels, toilet paper, diapers, baby food and clothing at the Student Center North first floor Commons Desk. Click here to see the full list. Donations will be accepted from 9 a.m.- 5 p.m., Mon.-Fri.
UH grad student Mercy Olusanya is one of the students organizing the donated supplies and is proud to see the outpouring of support.
"I think it's really great to see how generous people are – many are busy and or don't have a lot of money and they are finding time to give back to other people who are in need."
Students, faculty and staff who are in need of these supplies, can stop by the Impact Room on the first floor of Student Center North to collect any of the donated items.
In addition, we would like to hear how you are helping after Hurricane Harvey. Click here to let us know how you are making a difference.

---