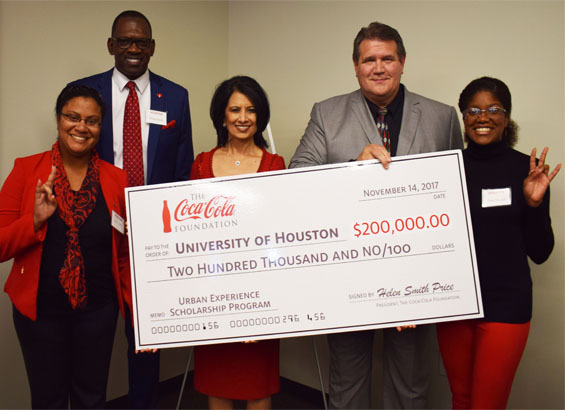 The University of Houston has been awarded a $200,000 grant from The Coca-Cola Foundation to fund the Coca-Cola First Generation Scholarship Program. The program awards individual scholarships of $1,125 per semester to 40 full-time undergraduate students who are the first in their families to attend college. Currently, nearly half of the university's undergraduate population, or 46.7 percent, are first-generation college students.
The purpose of the program is to increase graduation rates for first-generation students, with an emphasis on the academic, financial and social transition from high school to college. Summer programming and individualized interventions will play an important role in the program, in addition to the scholarships. The data and outcomes that the program generates will provide insight into best practices to increase college degree attainment for first-generation students.
"The Coca-Cola Foundation's grant supports our commitment to increase student retention and graduation rates," said Eloise Dunn Brice, vice chancellor/vice president for university advancement. "We are proud that first-generation students make up such a large percentage of our student body. This program not only benefits these students but impacts the overall value of a University of Houston degree."
The gift is a part of the university's "Here, We Go" campaign, contributing to its $1 billion goal. The Coca-Cola Company is a sponsor of UH Athletics for the University of Houston, but this grant is twice as large as their largest contribution to the University of Houston to date.
"The Coca-Cola Foundation is proud to support education programs that increase opportunities for young people and their families," said Helen Smith Price, president of The Coca-Cola Foundation. "In partnership with the University of Houston, we are pleased to help first-generation college students pursue their dreams in the classroom and in life."
The university's Urban Experience Program (UEP) worked in tandem with UH to develop the framework for the program. UEP provides opportunities for the University's diverse student population by preventing minor obstacles from becoming major setbacks to completing a degree. All UH students are eligible for UEP benefits and services, and members come from a variety of socioeconomic, gender and cultural backgrounds, including first-generation students.
"Our mission is to empower students with academic, personal and professional development resources that propel student success," said Raven Jones, director of UEP. "The University of Houston has made major strides in making a college education accessible to first generation students, but there is more work to be done. The Coca-Cola Foundation First Generation Scholarship Program is an important commitment to furthering our mission."
---