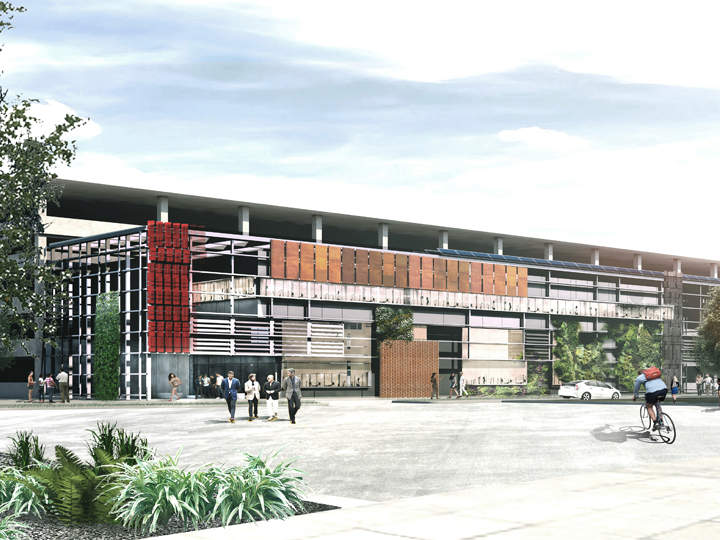 Global developer Gerald D. Hines and internationally known artist Barbara Hines have made a leadership gift of $1 million to the University of Houston to support construction of a new Advanced Media Technology Laboratory at the Gerald D. Hines College of Architecture and Design. The gift is a part of the university's $1 billion "Here, We Go" Campaign.
The Advanced Media Technology Laboratory will be at the forefront of digital design exploration, fostering the advancement of a variety of media, digital technologies and new fabrication techniques. The laboratory will promote research and collaboration across the university. It will also be home to a variety of applied research investigations. Chief among them are materials research, building envelope investigation, social design and prototyping for mass production.
The gift will allow students to research, design and fabricate prototypes using the latest advanced technologies, all while working with renowned faculty in a space dedicated to material research and design methodologies.
"Innovation, sustainability and superior materials have been integral to my career and part of our firm's DNA from the start," said Gerald Hines. "It is my hope that this gift will help to better prepare a new generation of leaders in the built environment."
Gerald Hines made a leadership gift of $7 million in 1997. He committed an additional $1 million in 2014 to support student international scholarships and international programming. Hines also funds a student internship in Barcelona each year.
"Our gratitude to Gerald and Barbara Hines for their continued generosity cannot be overstated," said Renu Khator, president of UH. "It is this kind of vision and investment that is crucial to expanding opportunities for our students and faculty and pushing the University of Houston to the forefront of innovation."
"Over the years, Gerald and Barbara Hines have shown their generous support time and again," said Eloise Brice, UH vice president for advancement. "The Hines' vision, as well as UH's vision, is that of a top-tier architecture and design school that will attract and retain the best faculty and the most talented students."
"This facility will bring about a new era of media design technology and fabrication for our college," said Patricia Belton Oliver, dean at Hines College.  "Giving our students access to emerging digital technologies will better prepare them with the skills needed in our rapidly changing professions."
Gerald and Barbara Hines have been a transformational force at the Hines College for decades through giving and mentoring. They traveled with students and faculty to Venice and Berlin for the debut of exhibitions that examined the urban development of Houston. Barbara Hines also serves on the executive committee for the "Here, We Go" Campaign. Their latest gift will not only impact the future of the college but will also support UH's effort to raise the level of excellence across the university, Houston and the surrounding region.
---