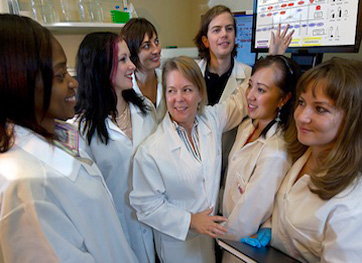 As the second leading cause of cancer-related deaths in the U.S., colon cancer affects both men and women and is expected to cause more than 50,000 deaths this year. University of Houston (UH) professor Cecilia Williams has been awarded a $1.56 million grant from the National Cancer Institute (NCI) to investigate the mechanistic basis for novel colon cancer prevention and therapy.

While a truly preventive or targeted therapy against colon cancer does not yet exist, estrogen has been shown to reduce incidence of this disease. Williams, an assistant professor with the UH Center for Nuclear Receptors and Cell Signaling (CNRCS), plans to provide a detailed understanding of the role and potential of the nuclear receptor estrogen receptor beta (ERbeta) in colon cancer prevention and treatment.

A large body of work has suggested that signals conveyed by estrogen can prevent or delay colon cancer development, but little is understood of the underlying mechanisms. Williams' lab offers unique models and data that can clarify how estrogen influences colon cancer development. Through this five-year project, the lab will investigate the mechanistic basis for novel colon cancer prevention and therapy using ERbeta to validate biomarkers and develop future therapy and prevention strategies.

"Our preliminary studies, performed with the help of graduate students Karin Edvardsson, Trang Vu and Philip Jonsson, have yielded positive results, and we look forward to expanding upon our research with this this NCI grant," Williams said. "Our goal is to increase opportunities for improved colon cancer prevention and therapies."

This work also involves experts within related fields, including Jonna Frasor at the University of Illinois at Chicago, who studies estrogen and inflammation in the breast; Dr. Christopher Garrett at the University of Texas M.D. Anderson Cancer Center, a colon cancer clinician; Preethi Gunaratne, a bioinformatics researcher and professor in the UH College of Natural Sciences and Mathematics; and UH CNRCS Director Dr. Jan-Åke Gustafsson, who discovered ERbeta in the mid-1990s.

The National Cancer Institute (NCI) is part of the National Institutes of Health (NIH), which is one of 11 agencies that compose the Department of Health and Human Services. The NCI, established under the National Cancer Institute Act of 1937, is the Federal Government's principal agency for cancer research and training.
###
Editor's Note: Emily Merrell of the Center for Nuclear Receptors and Cell Signaling contributed to this story.

About the University of Houston
The University of Houston is a Carnegie-designated Tier One public research university recognized by The Princeton Review as one of the nation's best colleges for undergraduate education. UH serves the globally competitive Houston and Gulf Coast Region by providing world-class faculty, experiential learning and strategic industry partnerships. Located in the nation's fourth-largest city, UH serves more than 39,500 students in the most ethnically and culturally diverse region in the country. For more information about UH, visit the university's newsroom at http://www.uh.edu/news-events/.

About the UH Center for Nuclear Receptors and Cell Signaling
Established in 2009, UH's Center for Nuclear Receptors and Cell Signaling (CNRCS) is a leading component of the UH Health initiative. Led by Jan-Åke Gustafsson, a National Academy of Sciences member and world-renowned expert in the field of nuclear receptors, CNRCS researchers are involved in many aspects of nuclear receptor research, all focused on understanding the roles of these receptors in health and disease. CNRCS researchers are working toward the goal of finding new treatments for an array of significant diseases including cancer, diabetes, metabolic syndrome and neurological disorders. Working from the center's world-class labs, the researchers combine interdisciplinary research and dynamic collaboration with the Texas Medical Center and industry partners.

About the College of Natural Sciences and Mathematics
The UH College of Natural Sciences and Mathematics, with 193 ranked faculty and nearly 6,000 students, offers bachelor's, master's and doctoral degrees in the natural sciences, computational sciences and mathematics. Faculty members in the departments of biology and biochemistry, chemistry, computer science, earth and atmospheric sciences, mathematics and physics conduct internationally recognized research in collaboration with industry, Texas Medical Center institutions, NASA and others worldwide.

To receive UH science news via email, sign up for UH-SciNews.

For additional news alerts about UH, follow us on Facebook and Twitter.


---