Three new regents soon will join the University of Houston System (UHS) Board of Regents. Texas Gov. Rick Perry appointed Durga D. Agrawal, Paula Mendoza and Peter Taaffe to the board on Tuesday. They will serve as regents through Aug. 31, 2019.
"Each of the three appointees brings a unique set of valuable skills to the board, but they also share a common commitment to community engagement and higher education," said UHS Chancellor and UH President Renu Khator. "We are fortunate to have such accomplished and dedicated individuals helping guide the future of the UH System."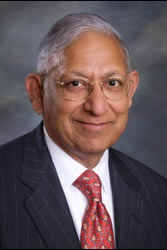 A UH alumnus, Agrawal is president and CEO of Piping Technology and Products. He also directs the Agrawal Association of America. Agrawal earned master's and doctoral degrees in industrial engineering from UH's Cullen College of Engineering. He serves on the college's Industrial Engineering Advisory Board, Alumni Board and Leadership Board. Agrawal also serves on the India Cultural Community and Industry Trade Advisory Committee. He previously served on the Texas Higher Education Coordinating Board. He is a member and past president of the Indo-American Chamber of Commerce of Greater Houston and India House Houston. He also served on the board for Friedman Industries.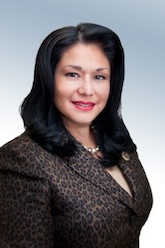 Mendoza is president and CEO of Possible Missions and is a commissioner of the Texas Ethics Commission. She also serves as a board member for the East End Chamber of Commerce Foundation. Previously, she chaired the Texas Ethics Commission, Texas Association of Mexican-American Chambers of Commerce and its Education Foundation, and the M.D. Anderson Family YMCA. Mendoza also is a past board member of the Texas State Board of Public Accountancy, Association for the Advancement of Mexican-Americans, Houston Hispanic Chamber of Commerce, Alliance of Minority Contractors of Houston, city of Houston Affirmative Action Advisory Commission, Navidad en el Barrio and Texas Southern University Barbara Jordan-Mickey Leland School of Public Affairs Community Advisory Council. She holds a bachelor's degree from the University of Houston-Downtown.
An attorney with Buzbee Law Firm, Taaffe is a member of the State Bar of Texas and the University of Houston Center for U.S. and Mexican Law Advisory Board. He is a past member of the State Bar of Texas Pro Bono College and the Robert W. Calvert American Inn of Court. Taaffe also previously served on the UH Law Center Alumni Association's board. He is a founder and past president of The University of Texas Phi Gamma Delta Alumni Advisory Board. Taaffe previously contributed his time and energy to Volunteer Legal Services of Central Texas, Mobile Loaves and Fishes, and the Westlake Youth Basketball Association. Taaffe holds a bachelor's degree from the University of Texas at Austin and a law degree from the UH Law Center, where he later taught as an adjunct faculty member.
The UHS Board of Regents is comprised of nine regular members and a student regent. Every two years, the Texas Governor appoints three members to the board. Each regular member serves a six-year term, and student regents serve for one year. The board officers for fiscal year 2014 are Jarvis V. Hollingsworth, chairman; Nandita V. Berry, vice chair; and Welcome W. Wilson Jr., secretary. The rest of the board includes Tilman J. Fertitta, Roger F. Welder, Spencer D. Armour III and student regent Benjamin P. Wells.
"Gov. Perry has selected three experienced and energetic leaders to help lead the UH System," Hollingsworth said. "As alumni, they are familiar with the system's component universities and will provide invaluable insight to the board. I look forward to working alongside our newest board members and continuing to grow the UH System."
The newly appointed board members replace outgoing regents Nelda Blair, Mica Mosbacher and Jacob Monty.
 For more details on the UH System and the UH System Board of Regents, visit http://www.uhsa.uh.edu/.
###
ABOUT THE UNIVERSITY OF HOUSTON SYSTEM
The University of Houston System is a comprehensive system of higher education institutions serving to further the intellectual capital and economic strength of the Gulf Coast region. The UH System includes the University of Houston, a nationally recognized Tier One public research university; the University of Houston-Downtown, a four-year undergraduate university expanding into graduate programs; the University of Houston-Victoria, a four-year university with undergraduate and master's level degree programs; and the University of Houston- Clear Lake, a four-year university with undergraduate and graduate programs. The system also includes three branch campuses, UH-Clear Lake Pearland, UH System - Northwest and UH Sugar Land, as well as a multi-institution teaching center, UH System Cinco Ranch. In addition, the System owns and operates Houston Public Media (HPM). HPM comprises KUHF-FM, Houston's National Public Radio station; KUHA-FM, Houston's 24-hour classical music station; and KUHT-TV, the nation's first educational television station. To learn more about the UH System, visit http://www.uhsa.uh.edu/.
---