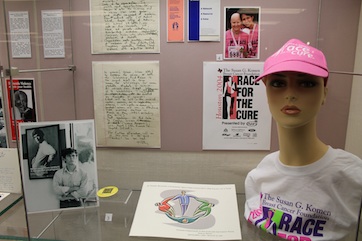 Texans are known for their determination and "can-do" attitudes. It's no surprise then that the state has been home to a number of influential women who have made unforgettable contributions to the lives of Texans and Americans.
Many artifacts documenting the accomplishments of such heroines are part of the Carey C. Shuart Women's Archives and Research Collection in the University of Houston's M.D. Anderson Library. Starting Oct. 14, library visitors can view many of these items, as they will be part of a new exhibition spotlighting the accomplishments of notable women in Houston and Texas.
"Collective HER-story: A Mosaic Masterpiece Exploring the Carey C. Shuart Women's Archives" will run through March 2 on the first and second floors of UH's M.D. Anderson Library (Exit 1 off Calhoun Road). The exhibition will feature photographs, letters, papers, memorabilia and multimedia tools dedicated to women who have made a difference in Houston and beyond.
Women leaders spotlighted will include Houston Mayor Annise Parker, former Houston Mayor Kathy Whitmire, suffrage leader Minnie Fisher Cunningham, former executive director of the Houston Area Women's Center Nikki Van Hightower, former professional basketball team the Houston Comets, artists Houston Gorilla Girls and others.
Multimedia tools will allow patrons to experience interviews with Parker and UH faculty members Elizabeth Gregory, director of UH Women's Gender and Sexuality program, and its philosophy professor Cynthia Freeland.
Vince Lee, archivist in UH Libraries Special Collections, curated "HER-Story." The exhibition was made possible with support from several UH departments including Women's Gender and Sexuality Studies program, Women's Resource Center, UH Commission on Women and UH Friends of Women's Studies.
The Carey C. Shuart Women's Archives is named for the Houston philanthropist, who has dedicated her time and energies to advancing women's causes in the egion. Shuart is a supporter of UH's Women's Studies program and co-founded the Women's Archive and Research Center. Her interest in preserving historical items related to women's issues began after finding a collection papers belonging to her grandmother Blanche Espy Chenoweth, a lecturer and writer.
For more details on the exhibition, visit its website or this article on the UH Libraries' blog.
The exhibition is free and open to library patrons. Library hours can be found on this site.
About the University of Houston
The University of Houston is a Carnegie-designated Tier One public research university recognized by The Princeton Review as one of the nation's best colleges for undergraduate education. UH serves the globally competitive Houston and Gulf Coast Region by providing world-class faculty, experiential learning and strategic industry partnerships. Located in the nation's fourth-largest city, UH serves more than 39,500 students in the most ethnically and culturally diverse region in the country. For more information about UH, visit the university's newsroom at http://www.uh.edu/news-events/.
###
---