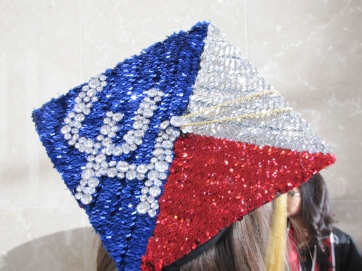 The University of Houston College of Liberal Arts & Social Sciences (CLASS) will host, "Ready … Set ... Commence!" All spring graduation candidates are invited to join Dean John W. Roberts at a pre-commencement day celebration of their achievements and future success. 
"Ready ... Set ... Commence!" takes place May 3 and May 6. It functions as an opportunity for graduating seniors to pick-up graduation packets, verify pronunciations of names, decorate mortar boards (top of graduation cap) and pick up "walk cards," the credentials required to walk across the commencement stage. 
"We are excited to have this opportunity to provide our graduates with information and resources that make their graduation day less stressful," Roberts said. "Being able to take care of the details in a more relaxed atmosphere will surely enhance their enjoyment of commencement."
The CLASS graduate studies coordinator will be on hand to answer questions about graduate studies programs at UH. Participants will also be able to join the UH Alumni Association.
At 11 a.m. May 3 and 5 p.m. May 6 Dean Roberts will lead a toast to the CLASS of 2013.
WHAT:

"Ready…Set…Commence!" 

Dean Roberts hosts new CLASS Graduation Celebration 

WHEN:


10 a.m. – 2 p.m. Friday, May 3

3  - 7 p.m., Monday, May 6, 2013

WHERE:  


Elizabeth D. Rockwell Pavilion

MD Anderson Library, 2nd Floor,

University of Houston

http://www.uh.edu/maps/buildings/?short_name=l  

Parking at the Welcome Center and Parking Garage

Entrance 1 off Calhoun Road

WHO: 

University of Houston College of Liberal Arts & Social Sciences spring graduates          

###
About the College of Liberal Arts & Social Sciences
The College of Liberal Arts & Social Sciences (CLASS) is the largest and most diverse of the 12 colleges at the University of Houston. CLASS is home to 16 schools and departments, encompassing the creative and performing arts, humanities, and social sciences. Undergraduate and graduate majors cover the full-range of the human experience from anthropology to human space exploration sciences. CLASS also offers social and cultural analysis in African American, Mexican American, Women's, Gender and Sexuality and other interdisciplinary studies program. For more information about CLASS, visit http://www.uh.edu/class/index.php
About the University of Houston
The University of Houston is a Carnegie-designated Tier One public research university recognized by The Princeton Review as one of the nation's best colleges for undergraduate education. UH serves the globally competitive Houston and Gulf Coast Region by providing world-class faculty, experiential learning and strategic industry partnerships. Located in the nation's fourth-largest city, UH serves more than 40,700 students in the most ethnically and culturally diverse region in the country. For more information about UH, visit the university's newsroom at http://www.uh.edu/news-events/
---