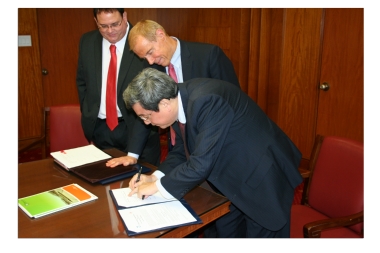 The University of Houston (UH) recently broadened its academic partnerships with Chinese institutions while hosting a delegation of Chinese media and tourism and trade officials on the first stop of an important trade trip to Houston.
"We look forward to establishing student and faculty exchange programs with the University of Houston," said Hu Shejun, university council chairman of South China Normal University.
Shejun was joined by UH's interim associate vice president for faculty and academic affairs, Professor F. Richard Olenchak, on Tuesday morning as both signed a Memorandum of Understanding (MOU) between their respective institutions for research, scholarship and teaching.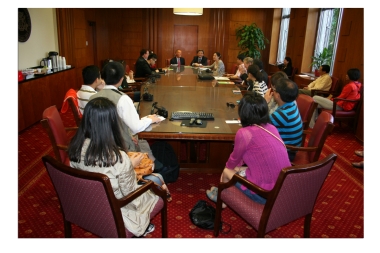 "This represents a wonderful opportunity for two major research universities in the world to engage in collaborative brainpower: South China Normal University and our own University of Houston," said Olenchak.
Prior to signing with South China Normal University, UH previously had signed MOUs with 13 other Chinese universities and has program-specific ties with seven additional Chinese institutions in the areas of natural sciences, mathematics and optometry. The MOU signing and tour of the UH campus that followed marked the tone-setting first stop on an important economic trip to the Houston area by the 22-person Chinese delegation.
The aim of the four-day trip, May 13-16, hosted by Texas Tourism and the Greater Houston Convention and Visitors Bureau, was to promote the Houston area as a tourist, business and travel destination for China.  It comes as Air China recently announced plans to launch new nonstop Houston-to-Beijing flight service out of George Bush Intercontinental Airport starting July 11. News of the flight service has been welcomed by the more than 820 Chinese students who attend UH. Chinese students make up 23 percent of the UH international student population, the largest among the 121 countries represented.
"Given UH's ever-increasing enrollment of students who either are from China or have significant family ties to China, as well as the rapidly-growing population of Chinese heritage in the Houston metropolitan area, improving air connections between Houston and Beijing is timely," said Olenchak.
While touring UH, members of the delegation asked about the application process for international students from China, and Olenchak was interviewed by Beijing TV, one of China's top television networks.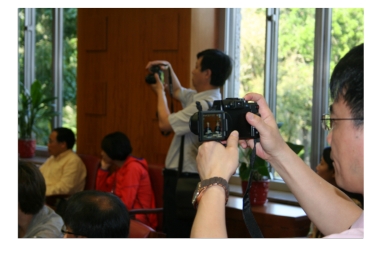 According to members of the visiting Chinese delegation, many people in China have become familiar with Houston as both a welcoming and innovative place, thanks to years of interest in NASA and the popularity of former Rocket's star and Chinese national Yao Ming. Following their visit to UH, the group was scheduled to visit various local institutions and landmarks such as the Port of Houston, Texas Medical Center and retails outlets like The Galleria and Houston Premium Outlets.
"The fact that the student population with Chinese ties continues to expand on the UH campus and the reality that the economies of the United States and China are intricately entwined, it makes logical sense in terms of research, economics and human relations for UH to strengthen its partnerships with universities, agencies, businesses and industries in China," said Olenchak.
The recent trip builds on existing international ties to China. UH has a Chinese Studies Program that offers a major and minor in Chinese Studies, a partnership with Sinopec and China National Petroleum Corporation as a part of the C.T. Bauer College EMBA in Global Energy Management Program, as well as Chinese study abroad and exchange visitor programs. The Consulate General of the People's Republic of China-Houston provides four full scholarships annually for UH students to study the Chinese language, culture and related disciplines in China.
Other collaborations include UH's Asian American Studies Center in the department of educational psychology, where Professor Yali Zou has hosted, educated and trained more than 1,700 higher education, business, management and government officials from China over the past 17 years.  Professor Zou leads 50 or more UH College of Education graduate students for a six-week program each summer to study in China. Over the years, Zou and the Center have hosted 67 visiting Chinese scholars at UH.  Earlier this year, the UH Graduate College of Social Work joined a U.S. consortium of schools that will help build social work education programs in China over the next five years.
---