The Honorable Elin Suleymanov, Azerbaijan's ambassador to the United States, will discuss energy in the Caspian region on Thursday (March 7) at the University of Houston (UH).
Suleymanov's appearance is hosted by UH's Energy and Sustainability Initiatives (ESI) program in the Bauer College of Business. His discussion starts at 5 p.m. in Rawson Auditorium, 160 Melcher Hall.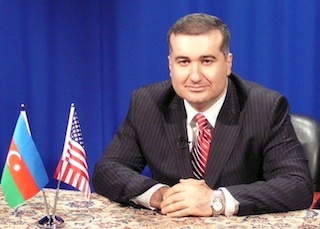 Suleymanov was appointed ambassador to the U.S. in October of 2011. Prior to that appointment, he had been Azerbaijan's first consul general to Los Angeles and the Western states for five years. Earlier, he served as senior counselor at the Foreign Relations Department, Office of the President in Baku, Azerbaijan, and as press officer of the Azerbaijani Embassy in Washington, D.C.
His experience also includes working with the United Nations high commissioner for Refugees in Azerbaijan, as well as with the Open Media Research Institute in Prague, Czech Rebpulic, and Glaverbel Czech, a leading manufacturing company in East-Central Europe.
ESI promotes speakers, brings in visiting scholars and provides links to resources about the energy industries and economic, environmental and public policy issues related to energy and sustainability. ESI also sponsors the UH Energy Exchange, which brings together students, faculty and experts from off-campus to discuss key issues. For more information about ESI, contact: esi@uh.edu
Who: The Honoroable Elin Suleymanov, Azerbaijan ambassador to the United States.
What: Presentation titled, "Energy in the Caspian Region."
When: Thursday, March 7, 5-6 p.m.
Where: Rawson Auditorium, 160 Melcher Hall, UH campus.
About the University of Houston
               The University of Houston is a Carnegie-designated Tier One public research university recognized by The Princeton Review as one of the nation's best colleges for undergraduate education. UH serves the globally competitive Houston and Gulf Coast Region by providing world-class faculty, experiential learning and strategic industry partnerships. Located in the nation's fourth-largest city, UH serves more than 40,700 students in the most ethnically and culturally diverse region in the country.
---